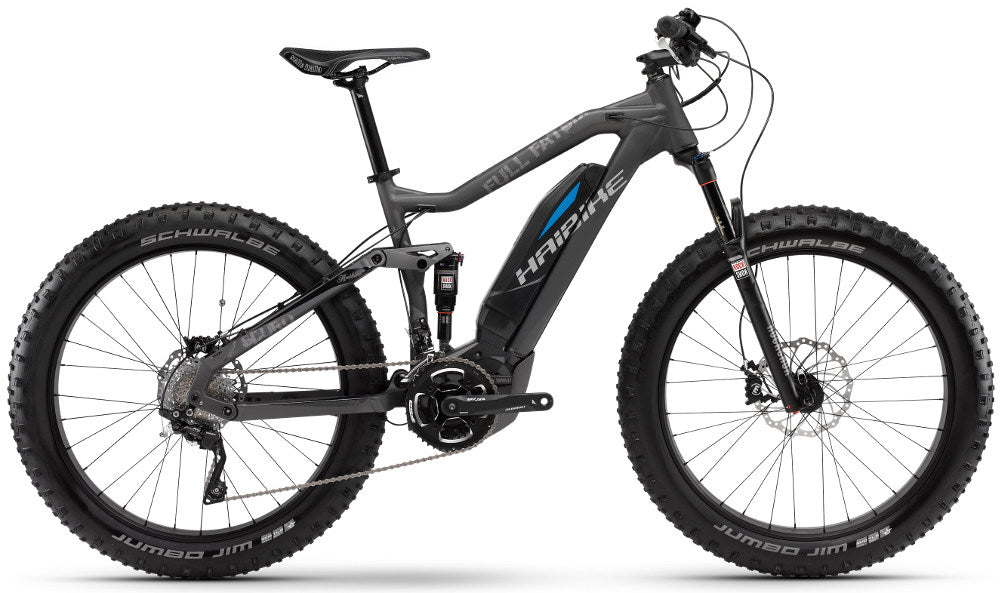 Range
40 - 90 Power
Assisted Miles*
Motor
Yamaha 250w
Crank Drive System
Battery
Yamaha 400Wh
PowerPack 36v
Speed
Electric Assistance
up to 15 mph
Haibike sDuro Full FatSix Fat Bike 2016 Yamaha
This bike is now sold out.
We will leave this page here as a past reference to the specification for this model.
View Latest Models »
This bike has sold-out
View Latest Models »
Who is this bike suitable for?
So we thought we had heard it all. Then Haibike dropped the bombshell and announced a full suspension fat bike! Here the Haibike sDuro FullFatSix is born for 2016! Now with a truly incredible ride, this full suspension fat bike offers superior levels of grip, traction and rider comfort. Suitable for Tracks, Trails & pretty much anything you point it at!



After much research into e-mountain bikes, and visiting a number of dealers, I was blown away by the brilliant service given at e-bikeshop. Martin really knows his stuff, and took into account everything I was looking for in an e-bike. I am now the very proud owner of an AWESOME Haibike, and am totally confident in the back up and aftersales. If you want an e-mountain bike, get down to e-bikeshop!!
New Features
Where do we start with this one? New for 2016 the sDuro Full FatSix is offered with front AND rear suspension on an excellent component base.
This bike is built with mid good kit and a stiff wheelset with wider fat bike tyres for added comfort and ultimate grip, even in harsh (Typical British) conditions!
New for 2016 the sDuro Full FatSix hosts a Rockshox Monarch RT3 rear shock. This new design offers silky smooth travel and due to it's lightweight design handles the bumps better than ever!
This air adjustable shock can be set to the rider's weight to give a plush feeling but suck up anything it needs to.
The Rockshox Monarch offers rider flexibility with the 'Pedal' function where the shock will remain fairly solid whilst pedalling to maintain efficiency. The new 2016 Full FatSix comes with RockShox Bluto forks are specifically designed with fat bikes in mind.


Offering superior adjust ability and a wide enough bridge for the super wide tyres to roll through.
These forks offer 120mm of travel, they are air adjustable and even have a remote lockout operated from the handlebars for conserving valuable energy on the climbs.
The stoppers on the 2016 sDuro Full FatSix are provided by Magura's new MT5 4 piston hydraulic disc brakes.
The new 2 finger lever offers good control whilst attacking the trails. The new Carbontecture construction brings the overall weight down while maintaining optimal braking performance.
Built on larger disc rotors to make sure this beast of a bike comes to a stop exactly as you'd want it to!
The new sDuro Full FatSix is built on a whole new Haibike fat bike wheels set for 2016, boasting lightweight drilled rims & sealed through axle hubs. Lightweight yet strong these wheels certainly look the part which is what sets the Full Fat Six aside!
Haibike have joined forces with German tyre manufacturer Schwalbe. These new Jumbo Jim tyres are 4 inches wide and offer a large tread pattern to ensure maximum grip.
They are made with the famous 'Snake Skin' sidewall to resist any snags and are fairly puncture resistant which is always a plus point. These tyres are just as light as similar all mountain regular tyres, which is surprising considering the amount of rubber used. Designed specifically for fat bikes.
The Yamaha system allows a dual ring at the front, so the AllMtn Plus for 2016 boasts a 2x10 Shimano gear setup. This 20 speed system offers a wide mixed of ratios for the user both up and down hill.
The new Shimano XT mechs are lighter weight and offer even crisper gear changes coupled with a Shimano front mech for full 20 speed gearing.
All the Shimano Shadow mechs offer a clutch system to reduce chain suck and keep an overall crisp feeling with less flex and bounce over the rougher bumps.
We are actually often asked - Is this Fat Bike available with rear suspension? The answer to date has been no, the tyres absorb the surface. But it actually makes sense for a bike set to be put through it's paces.
Looking for more traction, ultimate control and sheer amounts of comfort? This full suspension fat bike will literally soak up everything you throw at it. If the tyres don't then the front and rear shock certainly will do! It's going to be popular.

Yamaha eBike System
The new Haibike sDuro Full FatSix is powered by the latest Yamaha electric bike system. Haibike has partnered with Yamaha to bring a brand new line of sDuro eBikes, this powerful 250w motor offers up to 280% assistance and peaks at 80Nm of torque.
The power curve comes in early and is responsive as soon as you touch the pedals. The new assistance is set in 4 levels for 2016 - 'Eco+', 'Eco', 'Standard' & 'High'. This allows the user to fine tune the amount of assistance required during the ride offering complete flexibility and control.
The 2016 Yamaha system uses a 400Wh battery, now with an assisted range of up to 90 miles due to the new Eco+ assistance mode. The Haibike sDuro Full FatSix 2016 eBike is offered with the largest 400Wh Yamaha battery to give a full day's ride time.
The Yamaha eBike battery can be quickly recharged in a matter of hours and the new LCD display shows not just how much capacity the battery holds but also the predicted range in assisted miles. The charger now boasts an even smaller shell for 2016.
You can learn more / read reviews of the Yamaha eBike system on our blog pages.
Whats included?
This bike comes fully set-up by our workshop technicians. You can be sure that every aspect of the eBike has been dialled in for optimum performance. All our electric bikes arrive with a user manual, keys, charger & free follow up service within 3 months.
Our electric bikes also include a 5yr warranty on the frame, 2yr warranty on all the electrics & 1yr warranty on the components. In the event of a problem, we handle all warranty claims in-house. We can also offer remote worldwide support.
E-bikeshop is a UK Yamaha Electric Bike Service Center and our in house workshop is now exclusively reserved for our own eBike customers. We also have parts / spares to hand should they be required.
*Range is dependant on many factors inc rider weight, wind, hills, terrain etc. For a better estimate, please use our range calculator.
Customer Reviews
Chris
Awesome bike - great fun - travels over anything! Watch out using high assist and top gear (20th) chain alignment is super critical and often my chain would come off the front chain ring and get stuck in the spider/crank arm - very, very annoying!

Martin had a look a couple of times and could not resolve. Haibike acknowledge alignment is tight but were not expecting to use assist in top gears! (How dull when you want to go fast :) ) A couple of spacers on the front chain rings makes things much better!

Would be 5 rating if the chain alignment was improved!
Specification
General Bike Specifications
Frame
Alu 6061, Fat Bike, Hydro Formed, Yamaha Gravity Casting Interface
Forks
RockShox Bluto, Remote Lockout, 120mm Tapered
Rear Shock
RockShox Monarch RT3
Brakes
Magura MT5 180 / 203mm
Shifters
Shimano Deore Trigger 20 Speed
Rear Mech
Shimano XT Shadow 10 Speed
Cassette
Shimano HG50, 11-36, 10-Speed
Chain
Shimano HG74 10 Speed
Wheelset
Haibike Fat Bike Superlight Wheels Front: 15mm, Rear: 197/12mm axle
Tyres
Schwalbe Jumbo Jim, SnakeSkin, 26x4.0
Handlebars
sDuro ePerformance Lowriser Alloy
Stem
sDuro Alu, A-Head 1 1/8" 31.8
Headset
FSA no. 57, A-Head, semi-integrated
Seatpost
sDuro Alloy 31.6mm
Saddle
Selle Italia Nepal MTB
Electric Bike Specifications
Battery
Yamaha Lithium Ionen 36 Volt, 400 Wh, with BMS Management
Display
Yamaha multifunctional display with walk assistance
Motor
Yamaha Crank Drive 36V 250 Watt. 50 - 280% Assist, 80Nm
Range
40-100 miles of power assisted range, depending on terrain
Further Information
The most frequently asked questions on this eBike -
These questions relate to this bike. You can find a full F.A.Q on general eBike & website questions by clicking here.
What sizes is this bike available in?
The Haibike sDuro Full FatSix 2016 is available in frame sizes - SOLD OUT.
Is this bike in stock now?
The stock status is shown at the top of this page next to the price. If the stock level is shown as 'Pre-Order' this means it is a new model arriving soon, you can see an expected date at the top of each bike description.
Are there any colour options?
No, the sDuro Full FatSix 2016 bike is only available in the colour shown.
Where can I find a geometry chart of this bike?
You can find the geometry chart of each bike by clicking on the 'Downloads' tab of each bike.
Where is this bike made?
MADE IN GERMANY
Can I try the bike before I buy?
Yes of course, you can visit, we can talk you through your riding style and requirements and offer expert advice as to which model to select. We will be able to advise particular eBikes and talk them through in more detail. We also give you the opportunity to ride crank drive bikes so you can get a feel for them prior to purchase.
At e-bikeshop we work by appointment only, so we can talk to each customer on an individual basis to give the best advice possible. If you like the bike, you have the option to take it away there and then with any accessories selected fitted and a full fitting session on the bike itself. We ask you to go for a short ride on the bike to make sure you are happy with the setup and also able to answer any operational questions you may have.
If you cannot find the answer you are looking for, please do not hesitate to get in touch.
Remember you can find a full F.A.Q on general electric bike & website questions by clicking here.
The following links will open PDF files in a new tab -
UK's Largest Selection
Huge variety in stock ready for collection today or delivered assembled to your door next day.
Best Support & Advice
Renowned support from in house trained/qualified technicians, don't believe us? Read our reviews.
Join The Community
Join our growing owners club with exclusive events & rides every month throughout the UK.
Instant Parts & Spares
Exclusive access to spares in stock & delivered within 24 hours. Remote support via diagnostics.