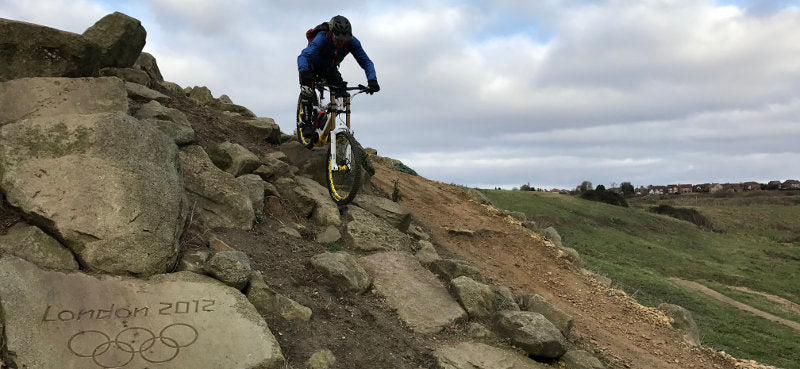 E-Bikeshop Owners Club Ride: Olympic MTB Park November 2016
By Martin Brown |
On Sunday 27th November the E-Bikeshop Owners Club had a fantastic ride out at Hadleigh Park AKA The Olympic Mountain Bike Course.
Great fun on the electric mountain bikes. Over 20 of us met in the main car park on Sunday morning to gather for a coffee and pre-ride brief. It was great to see so many faces, old and new, this ride including the UK's Bosch eBike Representative. Also the Haibike UK brand manager with some goodies & new 2017 demo's! We set off promptly to play in the skills area before starting the main course, a combination of Red, Blue and some gnarly Black sections for those feeling ambitious enough. In all, we covered about 15 miles switching between many routes across around 5-7 laps. It was a great place to ride as we all started together as a group but could dart off onto various ability sections before meeting back at the top of the hill each time. A fun filled day on the electric mountain bikes covering drops, rocks, jumps, berms, switchbacks, skills area and even the pump track at the end. No mechanicals, great weather and a great all round bunch of riders. Perfect! Hopefully, the pictures tell the story:
The next electric bike ride will be at Swinley Forest between Christmas and New Years Eve. Already live on the club events section, you can sign up now. We, will of course, publish all the photos of this ride on the ebikeshop club page in the next few days, don't forget to tag yourself in them.
The E-Bikeshop Owners Club is a closed group of riders, if you have purchased an eBike from us and want to get involved, please get in touch.