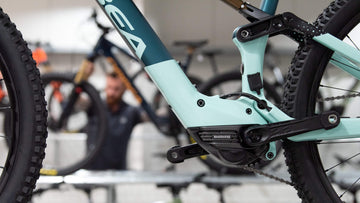 Your Booking
Is Confirmed!
Thanks for booking
We can confirm your booking, with thanks. You will receive an email confirmation shortly with your time slot and allocation.

Please print this page ahead of setting off.

In the meantime, please feel free to browse our comprehensive range of eBikes here, so you have an idea on specific models and what's on offer.

Of course we'll be here to guide you more precisely on the day.
Travelling by Road
If travelling from the north, exit the M3 at Junction 4. Join the A331 and then onto the A31 to bring you into Farnham. Alternatively from London travel on the A3 then the A31.

Travelling from the south, exit the M3 at junction 9 (Winchester) and then take the A31 to Farnham.

At the first roundabout take the first exit, continue and at the second roundabout cross straight over and Coxbridge Business Park is on your right as you exit the roundabout.

We have FREE on site parking.
Travelling by Train
Farnham train station is on the mainline from London Waterloo and located a short 5-10 minute walk from us. When you exit the station, please follow directions to the town centre.

You will walk up South Street, then at the crossroads turn left and continue through the high-street. Remain on that road, past an initial smaller roundabout, for about a mile until the road finishes at the Coxbridge roundabout.

Then follow the pathway on the right to walk alongside the A31. After a short walk you'll find Coxbridge Business Park on the right.
International
The closest International airports are London Gatwick & London Heathrow.

Transport links are available from these airports by train, taxi and bus.

Let us know your flight number and we can make arrangements for bookings on our end.

If you need a taxi booking or local accommodation, please let us know and we'll be happy to point your in the right direction.

Please google 'Visit London' for more information.
Local Directions
We are located just off Coxbridge Roundabout in Coxbridge Business Park. As you enter the business park, and bear to the left, Crondall Place is on the right.

Motor homes are welcome, we have ample space on site to accommodate larger vehicles. We are also fortunate to have a handful of local caravan and camping sites for overnight stay. For more info on these, please visit UK Campsite (Farnham).
Can't make it?
We understand from time to time, things can crop up. We'd ask you to let us know at your earliest convenience should you wish to re-arrange. Just let us know and we'll be on hand to adjust this for you.
As we set aside the time for you, we are limited to how many people can visit per day. If you cannot make it, just let us know. If you don't turn up, this takes away an opportunity for someone else to visit during this time slot. Thanks for your understanding.

In the meantime...