Cube Fold Electric Bikes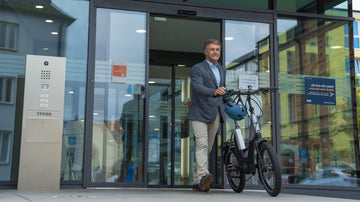 The Cube Fold electric hybrid and commuting bike epitomizes versatility and convenience, offering a perfect blend of electric power and compact design.
This folding marvel effortlessly combines urban mobility with practicality, seamlessly integrating electric assistance into its foldable frame. Ideal for city commutes, its nimble handling and collapsible structure allow easy storage and transport.
Tailored for urban explorers, it boasts adjustable assistance modes for varying terrains and riding styles. Crafted with reliability and endurance in mind, equipped with durable components and a long-lasting battery, it ensures a smooth and efficient ride.
The Cube Fold represents an innovative solution, revolutionising urban commuting with its compact, electric-powered design.
Can't find the Cube Fold electric bike you're looking for? Fill in our special order request form and we'll do our best to source it for you!
The Cube Fold hybrid is arguably one of the most polished folding bike we've ever seen. While many have an overly utilitarian look to them, the Cube Fold Hybrid electric bike is clean, well thought out and folding it is a breeze.
All of the Cube Fold Hybrid bikes use a Bosch motor and battery, but the bike is offered with two gearing solutions. As well as a traditional derailleur system, there is also a Gates Carbon Drive variant with an internal hub gear. This clever system is maintenance free and highly reliable.
The Cube Fold Hybrid models weigh 24kg. This is quite average for a folding Bosch driven ebike, but the bike also includes a really handy built in handle for making manual handling that little bit easier.