Cube Reaction Electric Bikes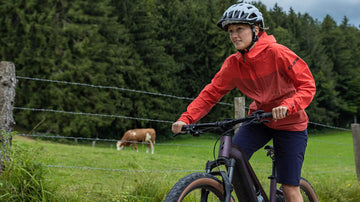 The Cube Reaction hardtail electric mountain bike range epitomises trail-blazing fun, fused with electrifying performance and truly unbeatable value.
These bikes embody agility, boasting robust frames for superior handling on challenging terrains. With integrated electric assistance and responsive suspension, they conquer climbs effortlessly while ensuring thrilling descents.
Tailored for adventurous riders, they offer customizable settings for varied trails and preferences. Crafted with durable components and enduring batteries, they guarantee reliability on rugged paths.
The Reaction series is Cube's ode to off-road excitement, delivering an exhilarating blend of power, control, and durability—a testament to the thrill of electric mountain biking, inviting riders to embark on adrenaline-fueled adventures through untamed trails.
Can't find the Cube Reaction electric bike you're looking for? Fill in our special order request form and we'll do our best to source it for you!
The Cube Reaction Hybrid electric hard tail mountain bikes can cope with just about anything a rider can throw at it. Its highly robust German frame and powerful Bosch drive systems allow it to cover almost any type of ground with absolute ease. The Cube Reaction Hybrid models are as happy on smooth, paved roads as they are on rough off-road tracks and trails.
The Cube Reaction Hybrid range comes in many specification levels, with batteries ranging from 500Wh to 750Wh. Bosch rate their 500Wh battery for "up to 120 miles". For the 625Wh version is 140 miles and for the 750, as many as 160 miles. In reality however, with varied riding and use of all of the power modes, around 50% of these figures is achievable. For those who are more economical with their use of the gears and power modes, 75% of the stated figures can be attained with ease. For the power hungry riders who love to ride everywhere in the maximum output modes, around 25% should be expected.
The Cube Reaction Hybrid Performance is the entry level model and uses a Gen 3 motor and 500/625Wh battery. The Pro is the next model up and is the first in the range to get Bosch's most powerful motor, the 85Nm Gen 4. It also gets better brakes, gears and suspension. The Race offers all of the specification of the Pro, but come withs a 750Wh battery as standard, along with another significant step up in brakes, gears and suspension. Its also the first in the range to be equipped with the Kiox 300 display.