Cube Stereo 160 Electric Bikes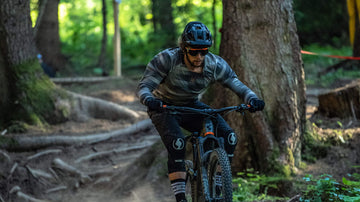 Cube Stereo 160 electric mountain bikes stand as the pinnacle of the trails, fusing robust design with electrifying performance and unbeatable value.
These bikes boast formidable power and agility, thanks to integrated electric assistance and durable frames. With advanced suspension systems and precision handling, they conquer steep climbs and technical descents with finesse.
Customisable settings cater to diverse terrain and riding styles, providing a thrilling experience for seasoned trail riders. Crafted with top-tier components and enduring batteries, they offer reliability and endurance on rugged trails.
The Stereo 160 series embodies Cube's commitment to innovation, delivering an exhilarating blend of power, control, and durability for off-road adventures.
Can't find the Cube Stereo 160 electric bike you're looking for? Fill in our special order request form and we'll do our best to source it for you!
Cube make a wide range full suspension electric mountain bikes and they all bear the same "Stereo Hybrid" name, however its what comes after these two words which denote the difference between each. 120, 140 and 160 is the length of suspension travel. The Cube Stereo Hybrid 160 models all have 160mm rear suspension and either 160 or 170mm at the front. This is defined as an "all mountain" bike, able to cover almost all types of riding but might be a little under sprung for purely downhill/enduro style riding. The Cube Stereo Hybrid 160 will be a little "over-biked" for simple gravel, fire road and trail riding, but cover everything above this including some reasonable sized jumps with ease.
Although they all share the same battery, motor and frame, each of the Cube Stereo Hybrid models all have different specification. As a general rule, the model lines each start with the entry level Pro model, then move through Race, SL or SLX (depending on model year), TM, Action Team and finally at the very top end, the SLT. The difference between them is in the brakes, gears and suspension, with the components starting with mid range equipment on the Pro, rising to competition grade on the Action Team and above.
Its very hard to beat Cube when it comes to value, so much so that it can be very difficult to justify buying anything else unless a rider has a specific brand or specification loyalty which isn't used by Cube. Owing to their exceptional German engineering, superb reliability and outstanding specification for their price points, each year riders new and old find that its next to impossible to get more bike for their money on anything other than a Cube.