Cube Touring Hybrid Electric Bikes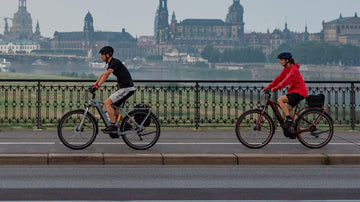 Experience the pinnacle of versatile riding, the Cube Touring Hybrid electric bike range is fully equipped for every adventure!
Unlock boundless exploration as these bikes seamlessly blend electric prowess with unparalleled comfort. Crafted for urban adventures or countryside escapes, their robust frames and ergonomic design ensure a smooth, luxurious ride.
Ascend effortlessly with the pedal-assist, transforming uphill challenges into effortless joyrides. Loaded with practical features like racks and mudguards, they're your ultimate travel companions, ready for any journey.
Step into a world of exploration—whether city streets or rural paths—Cube's Touring Hybrid series unlocks a thrilling, electrifying experience, promising limitless discovery and boundless enjoyment on every ride.
Can't find the Cube Touring electric bike you're looking for? Fill in our special order request form and we'll do our best to source it for you!
Absolutely! The Cube Touring Hybrid range of electric hybrid bikes are a "do it all" bike. Equally at home on tarmac or light forest trails, their Bosch drive systems and outstanding value specification make them the perfect choice for riders who want a fairly upright and super comfortable bike to do just about anything.
The specification on the Cube Touring Hybrid bikes varies by model, but as a minimum on all of them you'll get Bosch's powerful 75Nm Generation 3 Performance Line motor, a 500 or 625Wh battery and build in lights, mudguards, pannier rack and side stand. Just about everything you need bar a water bottle to start enjoying the outdoors on two wheels again!
The Cube Touring Hybrid range is built in three different frame styles - a Crossbar (with a traditional full crossbar), the Uni or "Trapeze" (with a lower crossbar) and the Easy Entry, which has no crossbar at all. Contrary to popular belief, this is nothing to do with rider gender and their frame styles are actually aimed at accessibility. The crossbar being the traditional frame style requires a leg to be thrown over the rear. With the Easy Entry, riders can step right through.