Haibike AllMtn Electric Bikes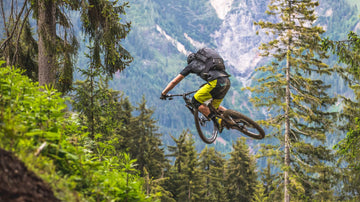 The Haibike AllMtn range of electric bikes epitomizes trail-conquering prowess, marrying cutting-edge technology with superior performance.
Renowned for their electric mountain bikes, the AllMtn series boasts robust frames and powerful motors, delivering unrivalled agility on challenging terrains.
With premium suspension systems and responsive handling, these bikes offer a thrilling ride, effortlessly navigating steep inclines and rough trails. Versatile and adaptive, they cater to varying skill levels, from casual adventurers to seasoned trailblazers, empowering riders with customizable settings and long-lasting battery life.
Haibike's AllMtn range isn't just about conquering peaks; it's a testament to innovation, redefining the boundaries of exhilarating off-road experiences in the world of e-mountain biking.
Can't find the Haibike AllMtn electric bike you're looking for? Fill in our special order request form and we'll do our best to source it for you!
The Haibike AllMtn range of electric mountain bike are for everyone. The AllMtn range is vast and offers bikes in all price categories, allowing riders of all skill levels to find a bike which matches their preferred riding style of level of skill.
The whole Haibike AllMtn range is marketed as a 160 bike. Occasionally they do pit 170mm forks from Fox on some of their models, but this is a bike made for all mountain style riding where around 160mm works best.
Haibike, unlike many other bike manufacturers are not tied to one particular motor manufacturer and so you'll find both Bosch and Yamaha variants of their bikes in the AllMtn lineup. Trying to cater for riders from both camps means you'll occasionally find "opposite" bikes, where two bikes might share the same overall design concept, but one might come with Fox suspension where the other has Rockshox. One may be fitted with Shimano brakes and gears, the other with SRAM and of course, one might have Yamaha, and another a Bosch motor/drive system.