Haibike Lyke Electric Bikes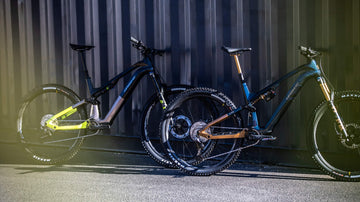 The Haibike Lyke range of lightweight electric mountain and terrain bikes stands as a pinnacle of trail versatility and innovation.
These bikes redefine off-road exploration, seamlessly integrating powerful electric systems into agile frames for exhilarating rides. With precision handling and durable build, they navigate varied terrains effortlessly.
The Lyke range offers adaptable riding modes, catering to diverse trails and rider preferences. Crafted with top-quality components and enduring batteries, they ensure reliability and enduring performance on challenging routes.
The official Lyke series mirrors Haibike's commitment to trail mastery, delivering an electrifying experience that empowers riders with remarkable power and agility, setting new standards in lightweight electric mountain and terrain biking.
Can't find the Haibike Lyke electric bike you're looking for? Fill in our special order request form and we'll do our best to source it for you!
The Haibike Lyke electric mountain bike models are a lightweight trail bike designed for fast and technical trail riding where the extra weight of a more powerful system would detract from the riding experience.
The Haibike Lyke electric full suspension mountain bike range makes use of Fazua's latest Ride 50 drive system and 430Wh internal battery. With 60Nm of climb conquering power on tap and a larger than average battery for this style of bike, the Lyke range will keep you out on the trails for longer.
All three of the Haibike Lyke models are exceptional at what they do but the "best" one is whichever best suits your budget and riding skill level. Novice riders would be best served by the entry level Haibike Lyke CF10, while highly skilled and more technical riders would make the best use of the top tier specification on the Haibike Lyke CF SE.