Haibike Trekking Low Electric Bikes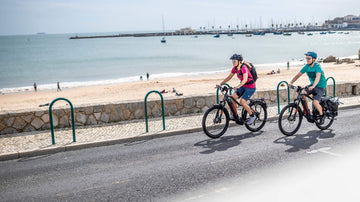 Haibike's Trekking bikes with low frames epitomize accessibility and style in urban and countryside exploration.
Crafted with sleek, low-step designs, they offer easy mounting and dismounting, catering to riders seeking convenience and comfort. These bikes prioritize accessibility without compromising performance, boasting sturdy frames and adaptable components for varied terrain.
With ergonomic features enhancing rider comfort, they provide a smooth and enjoyable journey for urban commuting or leisurely tours.
Haibike's low-framed Trekking bikes symbolize inclusivity, empowering riders with a stylish, accessible, and practical cycling solution, redefining the boundaries of comfort and accessibility in biking adventures.
Can't find the Haibike Trekking Low electric bike you're looking for? Fill in our special order request form and we'll do our best to source it for you!
Haibike Trekking bikes are designed to go everywhere and as such, are highly versatile. Whether you plan to ride on smooth tarmac roads, gravel paths or light forest trails, the Haibike Trekking range of bikes with a Lowstep frame and comfortable upright seating position make switching between varied terrain a breeze.
Low step options in the Haibike Trekking range come in lots of different specification levels. The lower priced models are designed for riders who only tend to undertake shorter journeys where extreme power, range and load carrying capacity is less important than reliably getting from A to B. The higher priced models like the Trekking 8 and 9 are designed for riders who will frequently do longer journeys, perhaps more of them being off-road than on, and where they might be carrying luggage or a small child.
This is a common question and the answer is always, no. In Holland, widely seen as the cycling capital of the world and where nearly half of all journeys of less than 3 miles are taken by bike, over 50% of bikes are of a Lowstep design and are ridden by men, women and children of all ages and abilities. Lowstep frame bikes offer a much greater level of flexibility for faster and easier mounting and dismounting.