Moustache Samedi 28 Electric Bikes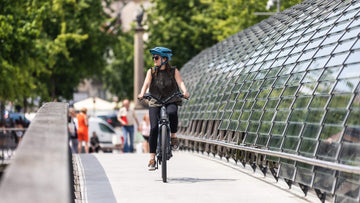 The Moustache Samedi 28 range embodies urban and leisure versatility in hybrid electric bikes.
These innovative rides seamlessly merge urban functionality with leisurely exploration, featuring robust frames integrated with electric power for an effortless experience. Designed for city jaunts or countryside cruises, they offer smooth handling and comfort.
The Samedi 28 series caters to diverse preferences with adjustable assistance modes, ensuring an adaptable ride for varied terrains. Crafted with durability and reliability, equipped with premium components and enduring batteries, they guarantee a reliable and enjoyable journey.
The Moustache Samedi 28 range redefines urban commuting and leisurely rides, delivering an electric-powered adventure for urban explorers and leisure cyclists alike.
Can't find the Moustache Samedi 28 electric bike you're looking for? Fill in our special order request form and we'll do our best to source it for you!
The Moustache Samedi 28 hybrid electric bikes are an all purpose bike with a focus on paved/hard pack ground. Although equipped with tyres wider than a traditional road focused bike, the Samedi 28 from Moustache is a leisure and touring bike for those who spend only a minority portion of their time on gravel, forest trails and fire roads. Its best suited to country road and urban riding. For those looking for a more off-road capable version, the Samedi X-Road is the better choice.
Moustache don't do anything "by accident". While Moustache bikes are generally a small percentage above their competitors in price, this is due to the way in which they manufacture their bikes. Being a much smaller company, Moustache hydro-form all of the frame and then hand-weld and finish them, which includes grinding out all of the well lines to leave a completely smooth finish. This hand-worked finish is what sets Moustache apart from their competitors, and why they cost a little more than their European competition.
Moustache bikes come with exceptional factory specification. The Moustache Samedi 28 range comes with factory designed and manufactured solid alloy mud guards, a pannier rack, front and rear lights and a robust side stand as standard.