Moustache Samedi X-Road Electric Bikes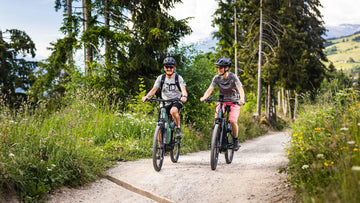 The Moustache X-Road range defines versatility in hybrid multi-terrain electric bikes, combining robust construction with electric innovation.
These bikes blur the lines between urban agility and off-road prowess, boasting sturdy frames infused with electric power for seamless exploration. Ideal for diverse terrains, they offer responsive handling and adaptable assistance modes.
Whether navigating city streets or venturing off the beaten path, they deliver a balanced ride experience. Crafted with durability and reliability, fitted with high-quality components and long-lasting batteries, they ensure enduring performance.
The Moustache X-Road range represents a fusion of urban adaptability and off-road capability, inviting riders to explore varied terrains with confidence and ease.
Can't find the Moustache Samedi X-Road electric bike you're looking for? Fill in our special order request form and we'll do our best to source it for you!
The Moustache Samedi X-Road hybrid electric bikes are an all purpose bike with a focus on uneven/rougher ground than a traditional road focused hybrid. Although equipped with tyres wider than a traditional road focused bike, the Samedi 28 from Moustache is a leisure and touring bike for those who spend only a minority portion of their time on gravel, forest trails and fire roads. Its best suited to country road and urban riding. For those looking for a more off-road capable version, the Samedi X-Road is the better choice.
Moustache bikes don't leave anything to chance. Though slightly pricier than competitors, their meticulous manufacturing justifies the cost. As a smaller entity, Moustache meticulously hydro-forms each frame, followed by precise hand-welding and finishing. They meticulously grind weld lines, yielding flawlessly smooth finishes. This intricate, manual touch distinguishes Moustache from European counterparts, underscoring their slightly higher price point. The extra investment ensures unparalleled craftsmanship and attention to detail, marking Moustache as a premium choice for those who value meticulous artistry and refined finishes in their biking.
Moustache bikes boast outstanding factory specifications. Within the Moustache Samedi 28 range, you'll find factory-designed and manufactured sturdy alloy mudguards, a pannier rack, front and rear lights, along with a durable side stand, all included as standard features.