MTB Full Suspension: Size XL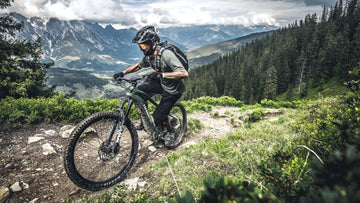 Landed here and need help?
This page lists all of the electric full suspension bikes we have in stock now in size X-Large.
Need help sizing onto a X-Large MTB full suspension bike? Use the simple size calculator located on each bike page, just click on 'Find My Size +' next to the bike frame size options. This will ask you for your overall height, arm and leg length to determine the correct size of full suss e-bike for you. Alternatively if you are unsure or can't find the X-Large full suspension electric bike you're looking for in your size, please feel free to get in touch.
Full suspension electric bikes cater for lots of styles of riding, but of course are fully focussed off-road mountain bikes. Whether riding fast and flowing trails, cross country, or hitting the biggest pro lines in bike parks. Still unsure which X-Large full suspension bike to buy? Get in touch or arrange to visit our electric bike HQ to view a selection of over 150 bikes and speak to one of our experts for impartial advice. Arrange an appointment here.
To view other full suspension electric bikes that may be available to pre-order or in alternative sizes, please visit our main MTB full suspension category. You can use the 'Filters' function to narrow down models to specific sizes.
Can't find the X-Large full suspension MTB bike you're looking for? Get in touch by filling in our 'Bike Special Order Request' form.