Days

Hours

Minutes

Seconds
Orbea Vibe Electric Bikes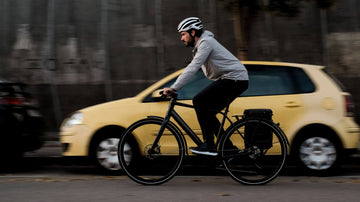 The Orbea Vibe lightweight hybrid e-bikes reimagine urban mobility, merging sleek design with eco-conscious performance.
These bikes blend seamlessly integrated electric assistance with featherweight frames, ensuring effortless city commutes and leisurely rides. Engineered for urban settings, they prioritize agility and comfort, offering smooth acceleration and responsive handling.
With a discreetly placed battery and customizable assistance modes, they promote sustainable travel without compromising style. Crafted with durable components, they embody reliability and efficiency for everyday use.
The official Orbea Vibe series epitomizes a harmonious fusion of innovation and practicality, ushering in a new era of urban cycling that prioritizes convenience, sustainability, and a refreshing riding experience.
Can't find the Orbea Vibe electric bike you're looking for? Fill in our special order request form and we'll do our best to source it for you!
The Orbea Vibe is a lightweight masterpiece of urban and leisure riding capability. Tipping the scales at around 7kg lighter than a crank driven alternative, the Orbea Vibe offers riders of any skill level or purpose a beautifully crafted and pleasingly simple bike capable of tarmac, gravel and light trail path riding.
The EQ variant of the Orbea Vibe is the "Equipped" version, an acronym first seen on this model but now being picked up by other marques where the manufacturer makes more than one version of the same bike. The Vibe H30 EQ comes with all of the specification of the non-EQ, but with the addition of an extra high/low beam headlight, Orbea's own alloy mudguards, a side stand and a pannier rack. These components are available separately for fitting on the non-EQ where customers only want or need partial specification of the EQ model.
The Orbea Vibe H30 and H30 EQ are some of the very best commuter bikes. Lightweight, nimble, punchy torque and with enough battery to see as many as 80 assisted miles, its one of the stand-out choices for extra-urban commuting and leisure.