Scott Patron Electric Bikes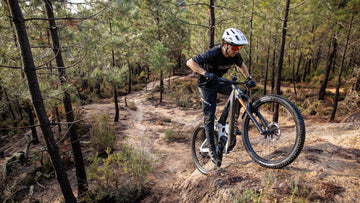 The Scott Patron electric mountain bike range stands as a pinnacle in trail dominance, marrying robust design with state-of-the-art electric technology.
These bikes embody versatility, effortlessly navigating climbs and thrilling descents with their resilient frames and potent electric systems. Their adaptive suspension and precise handling ensure unmatched control on challenging terrains.
Tailored for adventure seekers, they offer customizable settings to match diverse trails and riding styles. Crafted with top-tier components and enduring batteries, they ensure reliability and stamina on rugged paths.
The Patron series mirrors Scott's commitment to trail excellence, delivering an electrifying experience that empowers riders with remarkable power and agility.
Can't find the Scott Patron electric bike you're looking for? Fill in our special order request form and we'll do our best to source it for you!
The Scott Patron eRIDE range is a long travel trail bike. Where most trail bikes are somewhere around 140mm in travel, the 160mm travel Patron eRIDE models offer a level of travel only normally seen on "all mountain" bikes in a trail bike geometry and on 29er wheels, opening the door to do more with a single bike. Single track and fire road prowess, with the travel to hit the bigger jumps and drops when you need it.
A new and revolutionary design, the rear shock absorber on the Scott Patron eRIDE models is hidden inside the frame and accessed via a specially designed twist-lock cover plate. Scott designed this feature for two reasons - Firstly, it keeps is clean and free from debris, increasing the service life of the shock but its primary design function was to open out more space inside the front triangle to enable the motor to be mounted inside the front triangle rather than under it, and allow more space for a water bottle or other accessories to be carried.
The TwinLoc function on Scott full suspension bikes allows riders to change the suspension travel on the fly using the switch on the handlebars. Offering the option of locked out, shorter travel and full travel (the amount determined by the overall travel of the bike), increases both efficiency and support available to the rider to easily match the terrain being ridden.