Days

Hours

Minutes

Seconds
Scott Strike Electric Bikes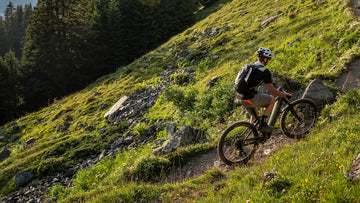 The Scott Strike range of electric mountain bikes redefines trail conquest with cutting-edge design and exceptional performance.
These bikes seamlessly merge ultra-light frames with potent electric systems, offering an unparalleled blend of agility and power. With responsive handling and durable construction, they conquer diverse terrains effortlessly.
The Strike series features adaptable assistance modes, catering to varied trails and riding preferences. Crafted with top-tier components and long-lasting batteries, they ensure reliability and enduring endurance on challenging trails.
The Strike range exemplifies Scott's dedication to trail mastery, providing an electrifying experience that empowers riders with extraordinary lightweight performance, setting a new benchmark in electric mountain biking excellence.
Can't find the Scott Strike electric bike you're looking for? Fill in our special order request form and we'll do our best to source it for you!
The Scott Strike eRIDE EVO is a blend of their ordinary Strike and the Patron. Suspended on 150mm of plush travel, its a crossover between a purely trail focused machine and an "all mountain" bike, opening up the doors to each for each kind of rider on a single bike capable of both fast trail riding and more technical routes with jumps, drops and more rugged terrain.
Scott for their electric mountain bike range are exclusively a Bosch power train user. The Scott Strike eRIDE EVO range all use Bosch's most powerful Generation 4 Performance CX motor with 85Nm of torque.
The Scott Strike eRIDE EVO bikes can cover huge ranges when ridden efficiently. The Strike eRIDE 920 EVO uses a 625Wh battery which is rates for up to 140 miles on a single charge. The Strike eRIDE 900 EVO and 910 EVO both use a 750Wh version of the same battery, with as much as 160 miles on tap.