Scott Trekking Electric Bikes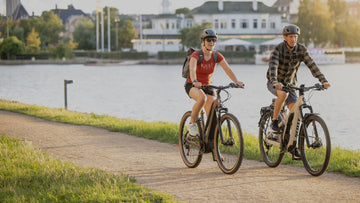 Scott's Trekking bikes, comprising the Sub Cross, Sub Tour and Sub Sport models, revolutionise urban exploration and countryside adventures.
These bikes showcase versatility, uniting sturdy frames with advanced features for seamless rides. The Sub Cross boasts agile handling, perfect for city rides, while the Sub Sport excels on rugged trails with enhanced performance.
Both models prioritise comfort and reliability, featuring ergonomic designs and durable components. Tailored for diverse terrains, they offer adaptability and stability, ensuring a smooth journey.
Crafted for durability and equipped with practical accessories, these Trekking bikes elevate commuting and leisurely rides, reflecting Scott's commitment to versatile, reliable, and enjoyable cycling experiences.
Can't find the Scott Trekking electric bike you're looking for? Fill in our special order request form and we'll do our best to source it for you!
The Scott Trekking range of bikes, which includes the Scott Sub Cross eRIDE, Scott Sub Sport eRIDE and Scott Sub Tour eRIDE are you ultimate leisure partner. Designed with focuses for on road, off road and a mix of the two, there is a Scott trekking bike for every type of rider.
Scott are almost entirely a Bosch focused manufacturer and all of the trekking bikes use either the Bosch Active Line, Performance Line or Performance CX motor and drive systems. This includes their 500Wh, 625Wh and 750Wh batteries.
Scott's Sub Tour, Sub Sport and Sub Cross eRIDE bikes are very much average. With this style of bike with a Bosch drive system tending to weigh between 24 and 29kg, their weight of between 25 and 27kg is bang on the industry average for a bike of this type. This weight should generally only be considered from the point of transport and/or manually moving the bike. The bike, once moving, feels lighter than a normal bike, owed entirely to its super strong Bosch drive system.