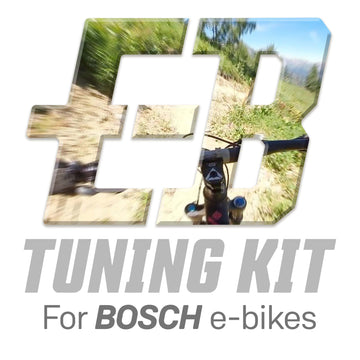 I understand the use: YES Add to Bike in Basket
Bosch E-Bike Parts
Tuning Dongle Kit for Bosch eBikes
This product is exclusively available to customers who purchase their bike(s) directly from E-Bikeshop. We do not supply, fit or ship this product for bikes purchased from other dealers. 

PLEASE NOTE: UNLESS INSTRUCTED BY US, IF YOU PLACE AN ORDER FOR THIS PART AND IT'S NOT ACCOMPANIED BY A BOSCH DRIVEN BIKE IN THE SAME ORDER/BASKET, THE ORDER WILL NOT BE FULFILLED AND YOU WILL RECEIVE A REFUND WITHIN 48 HOURS, MINUS AN ADMINISTRATION CHARGE.
Our Bosch Tuning (de-restriction) Kits remove the 15mph assistance cut-off on all Bosch powered eBikes.
This single product page covers tuning kits for all Bosch motor systems, including Bosch Active, Bosch Active Line, Bosch Active Line Plus, Bosch Cargo Line, Bosch Performance Line (Generation 3) and Bosch Performance Line CX (Generation 4) motors including the new 2022-onwards Bosch Smart System. 


The dongle kit is activated/deactivated using the "WALK" button on the handlebar controls.
Importance notice for Smart System equipped bike owners: The new Bosch Smart System allows now allows owners to carry out their own Bosch ebike software updates via the new Bosch eBike Flow app. Updating your bike's software with a "Tuning Dongle Kit for Bosch eBikes" fitted will cause errors in the software which will require a dealer visit to rectify (its not terminal, but it is frustrating for owners!). It will also cause unrecoverable errors in the tuning kit software and will require its replacement. This is not covered under the warranty of the tuning kit and it will require replacement at the full RRP.


If you wish you carry out your own software updates on your Smart System, please contact us first and one of our technical team will be very happy to walk you through the process to ensure it goes as easily and error free as it would in our own workshops. 
Please Note: We use references to "Bosch" only in the sense that this product is designed specifically to work with Bosch powered eBikes. This product is NOT manufactured, distributed or endorsed by Bosch themselves.


This Tuning Dongle Kit for Bosch eBikes allows you to unlock your ebike's speed and go faster while keeping it road legal. With an easy-to-install kit that can be fitted in store, you can use this product for private land use only. Unlock your ebike's potential today!
This product can be added to your basket when purchasing your new bike and will be fitted at no additional cost while we build it for you, however, please note that if you do not specify this part when new and choose to have it fitted during its first free service, routine/annual servicing or other maintenance/service/warranty related work, a small labour charge will apply.
Because this product is specifically designed to derestrict the motor and so increase the maximum assisted speed of Bosch driven ebikes to more than the 15.5mph UK limit, they are strictly FOR OFF ROAD (PRIVATE LAND) USE ONLY! They may not be used on the road, cycle paths, bridleways or anywhere else where the public have access.
Due to the continued development of software by the drive system manufacturers, tuning and de-restriction products are supplied on the basis that they may only work with the software version and motor components of the bike supplied at the time the tuning kit is supplied and no warranty or guarantee is given that these will continue to be compatible with future software versions or upgrades offered by the drive system manufacturer.
absolutely excellent
absolutely excellent it transforms your bike
The dongle does need extra covering as
Very good piece of kit. Transforms the bike. The dongle does need extra covering as it is prone to becoming loose and will cut out when wet. I tape the whole thing up in insulating tape. I expect there maybe issues in the winter and rides with deep wet mud etc.
So as you can see I shaved 4 minutes
So as you can see I shaved 4 minutes off my lap time. I also boosted my average speed from 12.5mph to 13.8mph This sort of performance over such a short distance has proved the dongle helps considerably!
no longer are you just getting interested and
Wow! Amazing! Great! Super! Yes!!!! (is the basic experience). Wow what a difference it makes - no longer are you just getting interested and the motor cuts out! Oh no! The thing just keeps going! F****** ace.
Just what I wanted. I don't know what else to say - I can only say that it is now exactly the bike I thought it could be. Only one other mod I did was to put a 45T chainring on it to deal with the higher top speed.
Otherwise I would say the bike is pretty much perfect.