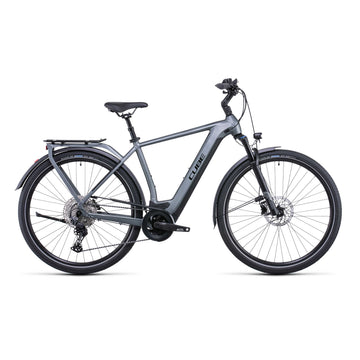 This item is now sold out & unavailable to order. We will leave this page here as a reference to the specification for this model.
View other products
E-Bike Key Specs
Cube Electric Bikes
Cube Kathmandu Hybrid Pro 625 2022 Crossbar
Specifications
General Bike Specifications
Frame Cube Aluminium Superlite Frame
Forks X-Fusion MIG32 Air, Tapered, 15x110mm, 100mm, Lockout
Brakes Shimano BR-MT200 hydraulic disc brakes, 180mm Rotors
Shifters Shimano Deore SL-M5100, Rapidfire-Plus
Rear Mech Shimano Deore RD-M5100-SGS, 11-speed
Cassette Shimano Deore CS-M5100, 11-51T
Chain KMC X10
Wheelset Cube EX23 Rims laced on Shimano Centerlock hubs
Tyres Schwalbe Big Ben Performance, 55-622
Handlebars CUBE Comfort Trail Bar, 700mm
Stem CUBE Comfort Stem Pro, 31.8mm, Adjustable
Headset ACROS AZF-1039
Seatpost CUBE Suspension Seatpost, 30.9mm
Saddle Natural Fit Sequence Comfort
Weight 26.4 kg
Electric Bike Specifications
Battery Bosch PowerTube 625Wh, with BMS Management
Display Bosch Intuvia Multi Functional Display
Motor Bosch Drive Unit Performance CX Generation 4 85Nm 250W
Range 30-140 miles of power assisted range, depending on terrain
A fantastic bike shop. Everything you could need in a bike shop, assisted brilliantly with a new e-road bike purchase, bike in stock and super quick delivery, helpful advice with setting the bike up and a small warranty claim needed within the first year. All round great service, very quick response by email, very knowledgeable and friendly.
WOULD HIGHLY RECOMMEND - KELLY
CUBE
The cube bike is excellent ...the fatter tyres are essential with our appalling roads and cycle paths.....the charging plug can be awkward to fit in a semi darken environment so a white line to line the plug up has been undertaken saving time and frustration......as with most E bikes there is no immediate acting lock to secure the bike so chains etc must be used even when popping into a shop for a few minutes a locking motor/hub on removal of the computer could be devised ?
uk The bike arrived with a broken bracket
First class service from the e-bikeshop.co.uk The bike arrived with a broken bracket probably done in transit and after a quick email I had the new part in my hand the next morning. Took the bike out yesterday for the first time and covered 26 miles and it didn't skip a beat.It handles hills like a dream. Everything performed perfectly and it was a joy to ride. I didn't like the pedals that came with it but I would guess they'd do what they were supposed to apart from that it's very pleasing on the eye and feels like it's made to last. I would definitely recommend this bike and this company.
Travelled 600 miles on it in a
Love the bike, hate the manual.
So this is my first ebike, and I love it. Travelled 600 miles on it in a couple of months. Having an ebike transforms the cycling experience and this one suits me perfectly. I purchased it saying I needed it for some off road, nothing crazy - bridleways that sort of thing. When purchasing, e-bikeshop said this good for that, and I think so. Though when I brought it in for a service & the e-bikeshop service guy saw it was muddy he said "You shouldn't have this off road, you need a mountain bike." Hmmm. Anyway, it seems to do fine.
However... It's also a tale of different Cube employees. One group of Cube employees loves cyclists - they designed and built this bike. However, clearly Cube employs someone who hates cyclists -what can they do? Cube can't have them work on the bike - they'd make the brakes fail or something. So this employee, they decide, should create the manual.
The manual is designed to put you off this bike, Cube, ebikes even cycling in general. A mistake you might make is to think "I have a problem with/question about the bike, I'll consult the manual." Let me save you a lot of time and pain: don't. Instead walk up a hill and at the top shout "What is the answer to my question?" It won't be any more helpful, but you'll have got a nice bit of exercise.
Ok, the manual is rubbish, but you'll check the Cube website for answers? The Cube guy who hates cyclists is well ahead of you. This is the link to the helpdesk: https://www.cube.eu/?id=6437. Try typing "chain" into the help search. Again, let me save you the time: as of Oct 2020 the Cube helpdesk has no results for chain. Or "wheel".
I can't low star the review because I love the bike so much. But you have been warned. You will need the manual at some point, and that's when you are going to be very unhappy.