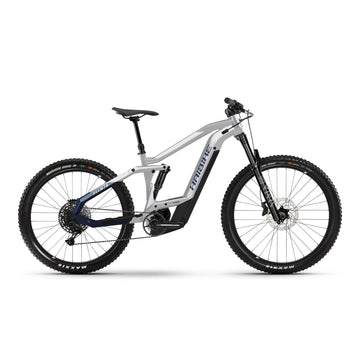 This item is now sold out & unavailable to order. We will leave this page here as a reference to the specification for this model.
View other products
E-Bike Key Specs
Haibike Electric Bikes
Haibike AllMtn 3 2021
Specifications
General Bike Specifications
Frame Alu 6061, Hydro Formed with InTube Integration & Modular Rail System
Forks RockShox Yari RC, 160mm, Tapered
Rear Shock RockShox Deluxe Select Plus 160mm
Brakes Shimano MT420, 203mm Rotors
Shifters Sram SX 12-Speed Shifter
Rear Mech Sram SX Eagle, 12-Speed
Cassette Sram PG1210, 11-50t, 12-Speed
Chain Sram SX Eagle
Wheelset Shimano Hubs on Alloy Rodi Rims
Tyres Maxxis Minion F29" x 2.5 / R27.5+ x 2.8
Handlebars Haibike xDuro TheBar 31.8mm, 780mm
Stem Haibike TheStem 31.8mm
Headset A-Head, Alloy, Tapered
Seatpost Haibike Dropper Post, Remote, 31.6mm
Saddle Selle Royal Vivo
Weight TBC
Electric Bike Specifications
Battery Bosch Lithium Ionen 36 Volt, 625Wh, with InTube Integration
Display Bosch Purion Display / Integrated Buttons
Motor Bosch Performance CX 36 Volt, Gen 4, 250 Watt. 50-340% Assist, 85Nm
Range 30-140 miles of power assisted range, depending on terrain
A fantastic bike shop. Everything you could need in a bike shop, assisted brilliantly with a new e-road bike purchase, bike in stock and super quick delivery, helpful advice with setting the bike up and a small warranty claim needed within the first year. All round great service, very quick response by email, very knowledgeable and friendly.
WOULD HIGHLY RECOMMEND - KELLY
I have just returned home from my family Christmas
I have just returned home from my family Christmas to find that the bike had arrived in my absence which is about the best present a person can receive in my opinion. The bike is beautiful and I can hardly wait to ride it.
I am struggling to find the words to express my appreciation for the wonderful experience I have had in dealing with you from the beginning to the end of this process but please know that you have made someone incredibly happy and not only that you have reminded me that there are some truly good people out there. Also Alfred was very quick to take care of the shipping as well as passing along all of the information needed.
Thank you so much for everything and may you have a fantastic New Year.
0 Allmtb a couple of weeks now my
Had my Xduro 6.0 Allmtb a couple of weeks now my first impressions upon receiving my new haibike were wow incredible machine compared to my previous entry model haibike which i covered around 2500 miles,so it was time for putting on my helmet and head out to experience my new toy!
After about 5 minutes my smile had evaporated i was going through the power modes waiting for the kick from the EXPM but it never came i felt as if i was cycling through custard! What was wrong? had i just wasted nearly £4000? Of course not it was the stupid 2.9" width Tyre's! I quickly cycled back home frustrated and swearing to myself i quickly went online and found some 2.1" width schwalbe plus mtb Tyre's hoping that this would fix my custard like ride?
Once my Tyre's arrived i headed out yet again and this time....."YEAH" this is more like it fast, efficient ,great acceleration,and much more battery life!Now i understand some people want maximum grip for off road and trail use but is it worth the awful custard driven ride to the woods having no battery left for when you get there?If you drive your bike to the trails then fair enough, i have taken my bike around trails with 2.1" width Tyre's with no issue.
When i overtake or see other haibike's with there fat Tyre's i have a little chuckle to myself seeing them plodding with there custard Tyre's lol!!!So the bike itself best £4000 i ever spent this Xduro 6.0 is amazing suspension more than capable for all riding requirements i personally don't think you would need to spend more than £4000 on a haibike this bike with the dongle is awesome!!!
but this bike is the best bit of
I've bought some toys over the years, but this bike is the best bit of kit Iv'e bought!
I'm doing about 40-60 miles per week and loving it.
had mine about 2 months now it is
What a bike.... had mine about 2 months now it is brilliant I do about 60 miles a week on it around the tracks down here in the forest of dean...It also attracts a lot of attention from other cyclist's asking questions about it...The service I've had from the e bike shop as been good with ordering and delivering and any questions I have with the bike Martin is alway pretty quick to respond ....I would certainly buy again from e bikeshop
The bike took a lot longer to arrive than
The bike took a lot longer to arrive than anticipated, but the wait was definitely worth it. I collected the bike on Friday 6th May, and can still remember the excitement of seeing this beautiful bike in the flesh for the first time.
Due to family commitments, I was unable to ride the bike for a couple of days, which was quite hard. Finally, I was able to take it to my favourite mountain bike trails in the Surrey Hills and put it through its paces.
The first thing I noticed was how smooth and forgiving the rear and front suspension units were..... Rockshox Vivid Air on the rear and Fox float 36 on the front. ''I spent a bit of time setting these up
for sag and rebound'' I was completely blown away by the way the bike handled over a variety of terrain and particularly how it cornered, which I had some concerns about due to the slack head angle of the forks. I needn't have worried.
The next think to check was how the new Bosch CX motor compared to the Bosch performance line fitted to my old bike. I took the bike up a very steep hill which the performance line motor didn't quite have the grunt to make it to the top. The CX motor fitted to my Nduro Xduro and with the Shimano 11 speed cassett fitted at the rear, the bike flew up the hill......Very impressive.
I've always been a Shimano man when it comes to brakes, and was a little nervous of the Magura 5 fitted to the bike. I needn't have worried, as these brakes are very powerful and modulate really well.
The new 500 watt battery really extends the range of the bike which is a great asset.
I've been so impressed with this bike, and truly believe that this is the start of an e-bike revolution. I've had some hard core mountain bikers ride my bike and everyone of them loved it!!
The service I have received from the guys at the E-bike shop has always been fantastic. thank you guys!!