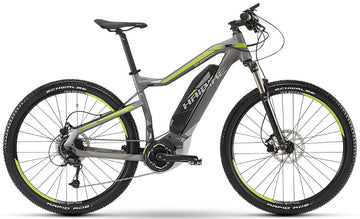 This item is now sold out & unavailable to order. We will leave this page here as a reference to the specification for this model.
View other products
Sold Out
Haibike sDuro HardSeven SL 2015 Yamaha
Specifications
General Bike Specifications
Frame Aluminium 6061, 27,5", hydroforced tubes, Yamaha Motor Interface
Forks Suntour XCR Air RL-R, Remote lockout, suspension: air/oil, travel: 100mm
Rear Shock N/A
Brakes Tektro Auriga, hydraulic disc brake, 180mm
Shifters Shimano Acera SL-M 390, Rapidfire Trigger Shifters
Rear Mech Shimano Deore M591, 9 Speed
Crankset Haibike sDuro Aluminium
Cassette Shimano HG 200-9, 11-34 Teeth, 9 Speed
Chain KMC X9e 9 Speed
Wheelset XLC Evo Disc Hubs, Rodi Alloy Double Wall Rims & Sapim Spokes
Tyres Schwalbe Rapid Rob, 27,5x2,25, Presta valve
Handlebars sDuro Lowriser Aluminium
Stem sDuro Aluminium, A-Head
Headset FSA No. 57, A-Head, semi-integrated, tapered
Seatpost Sduro Alu 31,6mm, Alu Patent, clamp with QR
Saddle Selle Royal Sirio
Weight 21.2 kg
Electric Bike Specifications
Battery Yamaha Lithium Ionen 36 Volt, 400 Wh
Display Yamaha multifunctional display with operation unit & walk assist
Motor Yamaha Crank Drive 36V 250W
Range 40-80 miles range, cost to charge from flat - 5 pence
Hi all I wanted to do 2nd review about
Hi all I wanted to do 2nd review about this bike. After having it for 8 months, done 6920km , maby pointing the GOODs and the BADs, just describing what goes wrong with bike after the time, so you know what to expect when buying bike like this
The GOODs
-NO problems with engine/battery/charging, works perfectly fine
-2 days ago i asked in a bike shop in Cologne, they told me, that it would be possible to put new NuVinci 380 hub gear onto this bike, but not the Carbon Belt drive, because of the frame, and it would cost approx. 750-800euro to put it on, this is something you should deffinately consider over the classic 9 speed gear ( less maintenance, fluent gear change, longer lifespan of chain)
The BADs
- I allready returned display 2 times, one time it showed me error message and i couldnt turn the bike on at all, they changed it for me at my dealer and it was okay, and 2nd time some numbers were fading on display for unknown reason, they replaced it again, apart from this display, nothing goes wrong if we talk about electric parts.
-Breaks are worn, yea almost 7K kilometres, i think i should replace them WHOLE, even though i didnt replace the break pads yet, the whole iron ring is getting 8 shape when turning the wheel, thats strange....
-Slight lag with reactions of engine comparing to Bosch systems
-The RANGE doesnt automatically change, depending on driving style, conditions, it doesnt calculate it like on Bosch
-Firmware is not upgradeable like Bosch
-Doesnt have gear change sensor (sensor that eases off the power of engine when you change gears, avoiding mashing)
( it happened to me after 5852km when i changed gears + pedaled, gears got mashed so much, that chain literally tore apart, and i ended up pushing myself on bike like on scooter the next 6 km to home, then the repair costs were 150 euro for new chain, new 9 speed gear+ i also had flat tire, so for new tube, obviously i though Schwalbe Marathon Plus (bought separately)are indestructable tires, maby they are, but deffinately not for offroad, i tested them heavily in park and then i had a piece of wood punctured tyre from side, so i guess tire is good for road only because only the top surface of it is having strong layers of resistant materials)
3 days ago i did another crazy trip, similar to the one from my first review
It was from Eindhoven to Cologne and back 350km in 3 days
day 1 started 10:30, arrived 19:45..... total 9h 15min= charging 1h+1h+30min used mainly ECO mode in begining, occasionally swiching to NORMAL mode
day 2 tour arround city did 60km
day 3 way back started 06:30 arrived 18:00... total 11h 30min chargning 1h+1h+2h+30min used alot of TOUR, because i was tired as hell, and i got my knee injured a bit, probably from too much cycling, i have water in knee now, taking rest
SO, IF you are planning to make crazy trips and if you are not professional biker like me, make sure you STRETCH alot before ride, and get plenty of regular breaks... otherwise you might get injrured.
I love the bike despite its flaws, but if i could buy again, i think i would go for Bosch