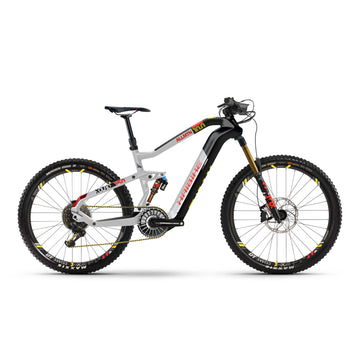 This item is now sold out & unavailable to order. We will leave this page here as a reference to the specification for this model.
View other products
E-Bike Key Specs
Haibike Electric Bikes
Haibike xDuro AllMtn 10.0 FLYON 2021
Specifications
General Bike Specifications
Frame Haibike Carbon Frame with Internal Cable Routing
Forks Fox 38E Factory Fork
Rear Shock Fox Float DPX2 Evol Rear Shock 150mm travel
Brakes Magura MT 7 Disc Brakes 203mm
Shifters Sram XX1 Eagle 12 Speed Trigger Shifter
Rear Mech Sram XX1 Eagle 12 Speed
Cassette Sram XX1 Eagle 12 Speed 10 - 50t
Chain Sram XX1 Eagle 12 Speed
Wheelset DT Swiss HX1501 Alloy Double Wall Mix 29" / 27.5+
Tyres Maxxis Minion F29" x 2.5 / R27.5+ x 2.8
Handlebars Haibike TheBar 780mm 31.8mm
Stem Haibike TheStem 31.8mm
Headset Haibike TheHeadset Tapered Sealed Bearing
Seatpost KS LEV Dropper Seat Post, Alloy, 34.9mm
Saddle Prologo PROXIM TiroX
Weight 26.9 kg
Electric Bike Specifications
Battery Haibike InTube Lithium Ionen 48 Volt, 630 Wh, with BMS Management
Display Haibike HMI & System Control with LCD Colour Screen and Multi Status Control Buttons
Motor TQ HPR 120 S Crank Drive 48V 250 Watt. 150 - 820% Assist, 120Nm
Range 25 - 100 miles of Power Assisted Range, Depending on Terrain
A fantastic bike shop. Everything you could need in a bike shop, assisted brilliantly with a new e-road bike purchase, bike in stock and super quick delivery, helpful advice with setting the bike up and a small warranty claim needed within the first year. All round great service, very quick response by email, very knowledgeable and friendly.
WOULD HIGHLY RECOMMEND - KELLY
I researched a whole lot before going for this
I researched a whole lot before going for this bike, i have it in the latest modell, 2020 allmtn 10.0. It is everything i had hoped for and more. Don't let the haters on YouTube and the net confuse you, this is a superbly high specced emtb with premium parts all round. i only upgraded the grips and the pedals, everything else is stock. I have had zero problems with the software everyone's trying to fault, it just works!
What i love the most is the smooth riding XC, the confidence when trailing and consistent efficiency across all support levels.
The finishing is impeccable, from the SRAM XX1 Eagle to Matura MT7, you've got the best of everything ploughed into one comprehensive package. Yes, it's on the heavier side, but that is because of the TQ motor (weighs in at 4kg, which is exactly what it weighs more than competitors using yamaha, bosch and brose motors), and it ultimately makes up for it five times over in unprecedented power delivery when you need it, entirely seamless. Also, you can switch off electric support and still have 12 gears to chose from, you'll never guess you're riding an electric bike, i promise you. But don't take my word for it, go and try one out yourself, the range is excellent.
I absolutely am in love with the bike and would buy it again. Just not in the near future, i have to recover from the recent purchase, which is the most i've ever spent on a bicycle or motorbike so far. Would i do it again? Absolutely YES! :)
And yes, it's got me back out there in the wild open, more active that i've been in a long time, shedding lockdown pounds, heading for nature and fresh air, totally addicted!!!
0 yesterday and went out on maiden ride this
Purchased the last remaining XDuro AllMtn 10.0 yesterday and went out on maiden ride this afternoon.
The bike rides incredibly well - quiet, no clunky gear shift or brake squeal and I flew up hills around Headley Heath I have never succeeded in climbing before. It was sure footed and as my confidence grew it became easier to prepare for the short sharp twisted sections.
It coped with narrow rutted single track on chalk very well with predictable handling.
All in all the best e bike I have ridden by far - and it looks great !
Highly recommended !
s this brings a whole new light to riding
Skeptical at first, being a puritan mountain bike rider. In my 50's this brings a whole new light to riding up hill. My last purchase of a very expensive carbon fiber mountain bike was 10 years.
My new 10.0 All Mtn. is truly a joy to ride with the big 2.8 tires, Fox shocks, dropper seat post, DT Swiss wheels and the killer new Yamaha PW-X motor. This little beast has an incredible amount of torque compared to an already great motor from last year.
This bike I would purchase again and recommend to a friend. Riding up hill is now fun, instead of challenging. After my usual killer loop, I'm now all about finding and exploring more fun trails. This new Haibike bike has reopened my heart and my enthusiasm to the sport of mountain biking. After much research the Haibike was my choice
Having spent my first week with the Xduro all
Having spent my first week with the Xduro all mtn10 and having rode it every day, I feel an appraisal is now due which might perhaps help anyone wondering should I or shouldn't I.
For me £6200 was an awful lot of money to spend on a mountain bike, so after my first week was it worth it. A resounding yes is the answer. From rocky downhill gullies to trails and paths it just soaks everything up I've thrown at it. The suspension has come just such a long way since my 8 year old hardtail that it is impossible to draw a comparison, suffice to say I'm sure I will never have the skills to find its limits.
Lastly, I will say that the bike looks every penny of being worth what it costs, and attracts considerable envious glances which all adds to the enjoyment.
Peter.
bike shop fit two extras both were neat and
Just received my haibike pro, delivery was very quick. I had e-bike shop fit two extras both were neat and tidy, very professional, fantastic bike. THANKS to everyone at e-bike shop