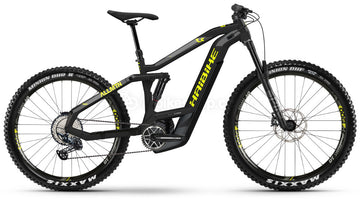 This item is now sold out & unavailable to order. We will leave this page here as a reference to the specification for this model.
View other products
Sold Out
Haibike xDuro AllMtn 3.5 2020 Bosch
Specifications
General Bike Specifications
Frame Alu 6061, Hydro Formed with InTube Integration & Modular Rail System
Forks RockShox Pike Select RC, 160mm, Tapered
Rear Shock RockShox Deluxe Select Plus 160mm
Brakes Magura MT7, 203mm Rotors
Shifters Shimano SLX M7100, 12-Speed
Rear Mech Shimano XT M8100, 12-Speed
Cassette Shimano SLX M7100, 10-51t, 12-Speed
Chain Shimano SLX M7100, 12-Speed
Wheelset DT Swiss H1900
Tyres Maxxis Minion F29" x 2.5 / R27.5+ x 2.8
Handlebars Haibike xDuro TheBar 31.8mm, 780mm
Stem Haibike TheStem 31.8mm
Headset A-Head, Alloy, Tapered
Seatpost Haibike Dropper Post, Remote, 31.6mm
Saddle Selle Royal Vivo
Weight 25.2 kg
Electric Bike Specifications
Battery Bosch Lithium Ionen 36 Volt, 625Wh, with InTube Integration
Display Bosch Purion Display / Integrated Buttons
Motor Bosch Performance CX 36 Volt, Gen 4, 250 Watt. 50-340% Assist, 85Nm
Range 30-160 miles of power assisted range, depending on terrain
0 this week and went for my first serious
Received my new Haibike Allmtn 6.0 this week and went for my first serious off-road ride today. It was absolutely awesome. The suspension is fantastic and simply floats over rocks. This was a warranty replacement for my 2017 Allmtn 7.0 which had a cracked frame. The team at e-bike shop were simply amazing - really great service. Thanks very much guys. I'm really going to enjoy this one!
ve had this bike since March this year and
I've had this bike since March this year and have to say; so far I have mainly been impressed with my experience. It's been reliable with outstanding performance from the Bosch 250w Performance CX Drive motor.
From my perspective I find the following:
Pros:
Motor - Good Strong motor.
Gears - SRAM gear set changes fantastically well and very responsive.
Suspension - The 150mm of travel soaks up the terrain with ease and maintains good feedback.
Handling - Well balanced and seated at all times.
Tyres - Good quality tyres with plenty of grip, promoting confidence on the trails
Aesthetics - Great combination of color and design.
Unfortunately, as with all things there are inevitably the cons to consider I'm afraid.
Cons:
Drive Train - Noisy unless you get excited with the lubrication! It can be controlled, but not entirely eradicated I'm afraid. Main culprit seems to be from the pulley tensioner.
Battery Cover - Securing method of the cover is poor, allowing the cover to work loose and become detached.
Brakes - Although I haven't got any real reasons as yet to have any gripes with these, I get the feeling that when pushed hard they may reach their limits relatively quickly and seem underpowered.
Paint finish - Transition between colours could be better.
Decals - Sub-standard stickers from a manufacture of this size. You will find that they will peel off easily.
To sum up then, if I'm totally honest, and if asked to recommend the bike, I probably wouldn't. Surprisingly for a big player in the game, there seems to be just too many issues present, and when combined they unfortunately drag the bike down. I would suggest perhaps stretching the budget a little further if you can.
Don't get me wrong, you will rarely find a perfect fit and with that in mind, it is a very capable machine and one that I'm having loads of fun on.
I bought a hard seven from Martin as I
My word - what a fantastic bike.
I bought a hard seven from Martin as I'm not a 'hardcore' mountain biker but my partner Wendy now uses it more than me so it gave me an excuse to buy a full suss mtb.....
......went out for the first time today and what an amazing stable bike - a million miles away from the hard seven - it is so easy to control downhill on slippery chalk and literally floats over large bumps and holes. I didn't realise how different both bikes could be......again hesitated at spending so much money but cannot recommend this bike enough...absolutely hooked and this is best 'boys toy' I have bought for years!!!!!
Thanks again MARTIN
I asked myself that very question and
You are probably asking is an e-Bike for me, I asked myself that very question and wrestled with the decision to buy for some time. I eventually purchased the Haibike xDuro ALLMTN Pro to compliment my other bike a Yeti SB-66.
Firstly I ride many of my miles off road and I can say I have had the pleasure of covering around 320 miles in 3 months over many trail centre tracks and wilderness trails. Cwmcarn Cafell Trail, Afan Forest W2, Nant yr Arian, Brecon Beacons The Gap and a range of other local loops in South Wales. The aim was to use the bike to help increase my ride time and range as my ride buddies had become fitter and I was struggling to even ride with them. I have no regrets with my purchase, in fact my fitness levels are climbing and I am having fun again. In fact I am only disappointed when I have to hang the bike back on the car.
In order to improve my fitness I made a conscious decision to utilise the Custom Ride Modes and turn the assistance levels way down, in fact the maximum assistance I typically use is 75% not the 275% the bike can offer in normal mode. My lower assistance levels which I ride with are 25% and 30%. This is a deliberate choice to ensure that I do not tear away up the trail leaving my buddies behind but spend time pacing myself with them, putting the effort in to improve my fitness. Turning the assistance levels down has one huge benefit, it improves the range of the battery on difficult hilly trail terrain. For example, 4 hours riding around Nant yr Arian still left me with 1.5 bars of power left from the 5 bars I started with. Showing I had power in reserve if I were to get too tired.
On balance not everything was perfect with the bike. Within the first week of riding the rear Maxle came loose and the speed running kit failed. The speed running kit was exchanged by Martin and the team with no issues and the Maxle I just re tightened. But I would say this should have not happened, the PDI should have covered such a basic set up, something I never experienced on any bike I have purchased. Further to this, one of the suspension linkage bushes came loose and fell out on the trail, fortunately I found this and was able to continue. It taught me a another lesson, check them before each ride, again something I never needed to do on any other bike I have owned. My final failure is the KS dropper seat post, I had read many negative reviews over the reliability of the post and can confirm most of the stories are true. Not long after the purchase of the bike the seat post developed around a 2 inch sag. Yes it's covered under warranty but it's the inconvenience of having to get it sorted. It's currently with KS so lets see how good their customer service is and what will be the turn around time as I cannot ride the bike until it is returned.
Overall and on balance I would recommend the product. Martin has given me guidance where I asked for it and has always enabled me to resolve any issues. Do not hesitate in purchasing an e-bike, the biggest challenge will be for you to want use the other bike you may own, you will not want to use anything else apart from the e-bike because of the range it put's into your riding and the confidence that everything is within your reach.
Love It!!