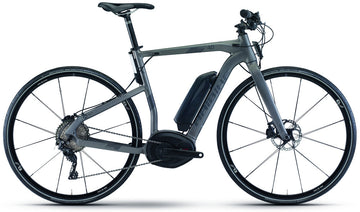 This item is now sold out & unavailable to order. We will leave this page here as a reference to the specification for this model.
View other products
Sold Out
Haibike xDuro Urban 4.0 2018 Bosch
Specifications
General Bike Specifications
Frame Alu 6061, Hydro Formed, Gravity Casting Interface
Forks Xduro Aluminium Tapered
Rear Shock N/A
Brakes Shimano SLX 160mm
Shifters Shimano SLX Trigger 11 Speed
Rear Mech Shimano XT 11 Speed
Cassette Shimano SLX, 11-42t, 11 Speed
Chain Shimano HG601, 11 Speed
Wheelset Crank Brothers Cobalt 1 700c Wheelset
Tyres Schwalbe Marathon Supreme 700x32c
Handlebars xDuro ePerformance Lowriser Alloy
Stem xDuro Alu, A-Head 1 1/8" 31.8
Headset FSA no. 57, A-Head, semi-integrated, tapered
Seatpost xDuro Alloy 31.6mm
Saddle xDuro Light Urban Saddle
Weight 18.2 kg
Electric Bike Specifications
Battery Bosch Lithium Ionen 36 Volt, 500 Wh, with BMS Management
Display Bosch Intuvia Multifunctional Display with Push Assistance
Motor Bosch Performance 36 Volt, 250 Watt 50 - 275% Assist, 70Nm
Range 30-140 miles of power assisted range, depending on terrain
Have now cycled just over 5000 miles on my
Have now cycled just over 5000 miles on my Haibike xduro urban and not once has it let me down, the reliability is second to none and is a measure of German engineering and build quality. It's hard to understand why this actual bike in not available and I personally think Haibike have closed an opportunity for more people to purchase this style of bike. We do a lot of cycle touring and without fail when we stop at cycle cafes etc I always get asked about the bike and where can they get one, only to be disappointed to find out it's no longer available.
The only maintenance carried out to date is to have a new rear cassette and chain fitted which having done 5000 miles is not that bad.
On the strength of my experience with Haibike over the last three years I would highly recommend the brand and it's products .
Purchased the Hiabike xDuro Urban in the middle of
Purchased the Hiabike xDuro Urban in the middle of this year and have to say it has performed better than my expectations. Using a combination of Eco and Tour options on the controller the battery lasted for 65 miles which included 42 miles in the Peak District, and there was still life in it even then. The ride is 'firm' and uneven tracks do need to be treated with care. The only downside, which I still need to get sorted was that after travelling 280 miles round trip to pick the bike up, the front light fail's to work all the time. It did when I picked it up but has played up, on and then off, ever since. Did try to resolve on the telephone but after exposing the wiring at the rear of the light and even the wires in the crank drive, no faults were found.
I have now had my Haibike xDuro Urban 4
I have now had my Haibike xDuro Urban 4.0 2018 for 6 months. For me, it has been an excellent purchase as I now approach my 77th. birthday. I had reached a stage when I had begun not to enjoy cycling so much, especially on hills.
Now I am back doing rides I had enjoyed doing 20 years ago with the confidence that I can go anywhere. The battery is not even half discharged at 50 miles. The bike is good when needing a quicker start, such as turning right at traffic lights going uphill. My bike requirements are specific for me and my age but, for me, it is an excellent bike. Thank you.
I have just taken the bike out for its
I have just taken the bike out for its first proper spin.
What I had asked from you was an electric bike that would enable me to keep up with anyone going up or downhill.
The urban is, without doubt, the fastest electric bike I have ever had and I have had many.
Not only is it very fast but gives me a very secure and stable feeling thus giving me the confidence to really utilize what it has to offer!
Thank so much.
They have a comprehensive range of the better
If you want to buy an electric bike, this is the place, even if you live some distance away. They have a comprehensive range of the better electric bikes available. It's no good just dropping in though. You need to make an appointment. This might seem a little odd, but it's a good idea in practice. It means you get Martin's undivided attention. If you are new to electric bikes, or not sure what you want, Martin's advice is invaluable.
I had been thinking about e-bikes for some months before my appointment, and I had decided on a Haibike. I was interested in the Trekker, the Cross, and possibly the Urban. Discussing the bikes with Martin, and seeing them, I quickly discounted the Trekker. Not my style. So now it was a difficult decision between the Cross (a 'head' decision) and the Urban ( a 'heart' decision).
I chose the Urban. A mean looking black stealth machine. I also added the Bosch Nyon, a different saddle, and a suspension seat post.
It's brilliant. I love it, though the sensible side of my brain wonders if I should have bought the Cross. This is only because the lanes in Somerset are in worse condition than I thought, and suspension forks might have been a good idea. It flies along. It takes the sting out of hills and headwinds (I'm 71). It feels taut and responsive.
The Nyon. A good piece of kit, but the SatNav function is not very good. Even if you choose the fastest route it chooses dead ends, and farm tracks. If you choose scenic route, take some emergency rations with you! This is probably because they use OpenStreetMaps. It would be better based on Google Maps.