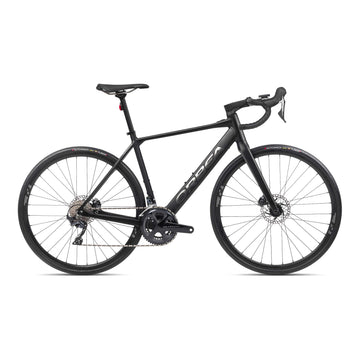 This item is now sold out & unavailable to order. We will leave this page here as a reference to the specification for this model.
View other products
E-Bike Key Specs
Orbea Electric Bikes
Orbea Gain D20 Ultegra Electric Road Bike 2022
Specifications
General Bike Specifications
Frame Orbea Gain Hydro 6061 Hydroformed Aluminium 2022
Forks Gain Hydro carbon fork
Brakes Shimano R8070 Hydraulic Disc Brakes
Shifters Shimano ST-8020
Rear Mech Shimano Ultegra R8000 GS
Cassette Shimano Ultegra R8000 11-32t 11-Speed
Chain KMC X11 11-Speed
Wheelset Ready GR 700c Alloy Wheels
Tyres Hutchinson Fusion 5 Performance TLR 700x30
Handlebars OC2 Road, reach 80mm, drop 125mm
Stem OC1 31.8mm interface -6º
Headset Acros Alloy 1-1/2" Internal Cable Routing
Seatpost OC 27.2 Offset 0, for integrated light
Saddle Selle Royal Asphalt GR
Weight 13.6 kg (Approx)
Electric Bike Specifications
Battery Ebikemotion 36V 6.9A 250Wh
Display OC monochrome ANT+ LEV
Motor Ebikemotion X35 Plus
Range 30-80 miles of power assisted range, depending on terrain
"A JOY TO RIDE"
Bike arrived today so this is a first impression. It looks great and seems well made. To start with I didn't switch it on and rode it as a normal bike. I was expecting it to feel heavy with lots of drag from the motor and slightly oversized tyres but thought it was a joy to ride and very smooth over poor surfaces.
PETER - Read more
Great bike - Impressed
I've only take the bike out for 4 short rides so far, but have been really impressed. I've had Orbea MTBs before and the components and overall fit and finish have been great, this is no exception. I really like the app, makes understanding the charge percentage much easier. Great service from e-Bikeshop also, prompt delivery and great comms throughout.
Orbea Gain D20 Ultegra Electric Road Bike
Fantastic bike and customer service
I am thrilled with the bike and both the arrangements for collection and care taken during the handover were excellent.
Early review
I was very pleased with delivery date and minimal lead time. Assembly was pretty straightforward, however, the rear light cable within the saddle stem broke when inserting the saddle stem for the first time. What was impressive was the error message on the app highlighted a fault with the lights. I removed the saddle stem, rejoied the broken wire and all was good, however, when reinserting the saddle stem back into the frame the cable broke once more. I, therefore, disconnected the rear light and removed the light from the frame. Perhaps protect the cables from getting caught when inserting the saddle stem in the future? I was pleased to note the bottle carrier I had ordered was already fitted, I was surprised that the tube dust caps had not been put back on after inflating the tyres and were not n the packaging anywhere. After the initial shenanigans with the control button's error code, I charged the battery. The battery charger cable is a bit of a tight fit to get on but I assume this will become easier as it gets more use. I put on new Speedplay pedals and after the normal tweaking of seat height saddle movement and bar adjustments, I was ready to ride. Oh boy, Sooo good, the frame is small based on the size guide, my other bikes are medium and I noticed the shortness of the crossbar which meant moving the saddle further back than I would normally have it. I have COPD with only 30% lung capacity which is why I've bought an e-bike as it is mountainous and hilly here in Wales. Hills are a necessity. I felt re-born after being off a bike since August 2022. It was so enjoyable to be back in the saddle. Only a short first ride, 11.5 miles but it was so smooth and at times I wondered whether the unit was working or whether I was doing it on my own, really seamless motor action and inaction. I was conscious of the noise but I'm sure I will get used to it. I returned with a smile on my face and noted using my Fitbit data that I had been cruising along and in fat burning zone with no red zone. This is a first, typically 70% of my riding is in the red which was why I was unable to ride so this is a great start to e-biking that I hope continues. The use of the buttons still needs getting used to, I find it a bit strange that moving from turbo to eco involves turning the motor off but I guess I'll get used to that. I was able to fit my Elemnt Bolt onto the unit above the front light and was really impressed that after searching for sensors on the Bolt it picked up the e-bike and then displayed the battery and mode on the unit. Really useful. After returning from the ride I put it on charge keen to ride a bit further the following day. However, after turning the unit on the motor wouldn't work, I tried a short ride, around 1.5 miles, trying to get the motor activated but to no avail! I did think how yesterday I was wondering whether it was on, well Friday I could certainly tell it wasn't! Really disappointing. Checking the app on the phone error code #103 was displaying. Emailed e-bike who responded within the hour explaining that it needed a firmware update. Wow, couldn't have that been done before it was despatched? To be fair to them Alfred in support posted out a cable and USB with the update which I received today and have completed the update. I hope that all will be well but until I try it tomorrow I won't be able to tell until after that so this review is only based on one 11.5-mile ride. I would have preferred a longer length of time so perhaps consider not sending out review requests so quickly after sending the bike out in the future. Overall really pleased with E-Bike support and update - the bike's first impression was good but hopefully, a few more miles in the saddle will provide a better review.
Back in the saddle
Had the bike for just over a week. I absolutely love it. I stopped cycling about 5 years ago after doing 7 coast to coast rides. At 61 years of age I wanted to get back in the saddle, but the thought of getting back on a bike horrified me. The electric option ticked all the boxes. I have got the cycling bug back in my system once again.