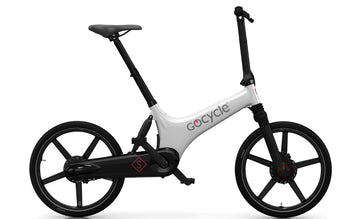 This item is now sold out & unavailable to order. We will leave this page here as a reference to the specification for this model.
View other products
Sold Out
Gocycle GS Portable Electric Bike
Specifications
General Bike Specifications
Gears Mechanical 3 Speed Nexus Hub
Frame Gocycle GS updated design, wipe clean frame
Forks Gocycle GS updated proprietary, single-sided, 6061 T6, fixed
Rear Shock Gocycle Lockshock™ 25mm (1 in) travel
Brakes GS Hydraulic disk, front and rear
Shifters Mechanical Microshift 3 Speed
Wheelset Gocycle PitstopWheel®, Detachable, side mounted with Hexlock System
Tyres Gocycle Performance Tyre 20 x 1.75
Handlebars Quick-folding with reach adjustment
Saddle Velo Sport
Weight 16.5 kg
Electric Bike Specifications
Battery Gocycle GS In Frame Lithium, 13.5Ah, Approx 300Wh 22V
Display No Display - Use GocycleConnect® App
Motor Gocycle GS proprietary motor gear drive 250 watt continuous
Range Up to 65km (40 miles), depending on pedal input
m delighted with my Go Cycle 2 purchased from
I'm delighted with my Go Cycle 2 purchased from e-bikeshop. The service at the point of purchase was excellent and they delivered the extras I ordered very efficiently, The Go Cycle has smooth suspension, is comfortable to sit on and a pleasure to ride. It's also easy to transport in the back of my car even without fully dismantling it. Just take off the wheels, fold in the pedals and it will fit behind the front seats of most cars. It's an exceedingly clever bike with exceptional looks. Almost every time I use it I get remarks and questions from passers by.
So the following weekend I went to the
While surfing the web, I came across the Gocycle G2, and decided to take a closer look. So the following weekend I went to the closest dealer to try out the Gocycle G2. It was surprisingly easy to ride! It really was fun, but it seemed expensive (for me at least).
After much deliberation I popped back to the dealer the following weekend and came away with my new Gocycle G2. I cycled home in the pouring rain with big smile on my face.
I've now clocked up nearly 1,500 miles on it. It's not like cycling as I remember it, you don't notice the hills so much, you don't get so frustrated when you have to stop and start in traffic, and best of all you don't arrived at your destination dripping with sweat. It's just a more civilised way to cycle.
I'm not saying the Gocycle is necessarily the best choice for an e-bike, but it was my first choice. I'm not sure that I was very clinical with my selection process though, I just liked the look of it. Now that I've lived with it for a year I can say that there are some points that really stand out. It's very easy to keep clean (which is quite important given that it is stored in the living room). It's fairly light compared to some other e-bikes, so still fairly easy to carry when necessary (unavoidable sometimes when the lifts are out in the Greenwich foot tunnel).
It is possible to fold up. I don't think you would want to do this on a regular basis though. I've not used the folding feature that much, although there have been a few times where I popped it in the boot of the car or took it on the bus. It's very simple to use, and fairly easy to adjust the amount of assistance you want.
One thing I'm not so sure about though is the attention it attracts. If you don't like to be noticed then the Gocycle is not for you. People can't help but comment on it. It really is a head turner. I'm guessing the range may be a bit short for some. I probably get about 15 miles, but obviously this will vary depending on hills and the level of assistance.
The Gocycle is a great little bike that attracts a lot of attention, and it really opened my eyes to the benefits of e-bikes, so much so that I bought another e-bike!
To sum up, I would say that the e-bike really has changed my life. I look forward to the daily commute to work! They are expensive but I have only been on public transport a handful of times over the last year so I have already saved myself about £1,500 in bus/tube fares. I've seen articles which suggest it is for those people that aren't very fit for one reason or another, but I don't really agree with that assessment. An e-bike is a really efficient means of personal transport for anyone, much better in the city than a car, or even a motorbike. If you haven't considered an e-bike until now then I would thoroughly recommend that you do.