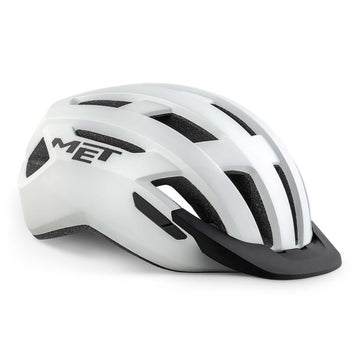 MET
MET Allroad Cycling Helmet (with integrated LED)
One helmet, all road.
The MET Allroad bicycle helmet is designed for every ride. Made for those who mix their riding between commuter, rural and urban routes, this Italian designed helmet isn't just easy on the eye. With vertical adjustment & ponytail compatibility its built for comfort and the reflective stickers and an integrated rear LED light combine to increase visibility. Exceptionally lightweight and secure thanks to MET's Safe-T E-DUO fit system it's the perfect helmet for your next biking adventure.
Featuring a robust, removable visor which snaps in and out of the side vents without any anchor clips, this concept makes the design of the MET Allroad cleaner and truly versatile.
"The Allroad is not just about aesthetics, road safety is clearly prioritised, with the visor detached, not only does it offer good visibility of the road, but with small reflective strips as well as a neatly integrated LED rear light with flash mode, this helmet also ensures that you are seen ON the road." - Gadgethead
Features:
Exceptionally versatile design
Safe-T E-DUO Fit System
Snap in/out visor without anchor clips
Vertical adjustment and ponytail compatible
Integrated rear LED light
Reflective rear stickers
Internal air-channelling
Hand washable comfort pads
Adjustable cam divider
MET Warranty and Crash Replacement
As an official MET dealer, when you purchase a helmet from us MET guarantee the helmet to be free from defects in both material and workmanship for 2 years from the original date of purchase. They also offer a replacement at a reduced price if your helmet is damaged in an accident. Find out more about the MET warranty and crash replacement here.