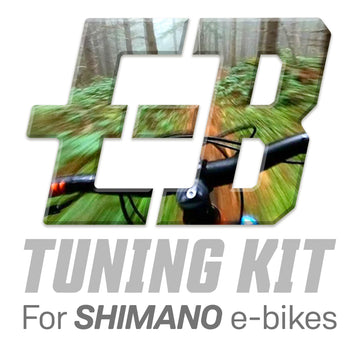 I understand the use of the item: YES Add to Bike in Basket
Shimano Steps E-Bike Parts
Tuning Kit for Shimano EP8 eBikes
Our Shimano EP8 Tuning (de-restriction) Kits remove the 15mph assistance cut-off on all EP8 powered eBikes.

This component will ONLY work with Shimano EP8 driven models. Designed for Orbea Rise 2022 models only. It will not work with the later 2023 Rise models which use the EP8-01 motor.
This product is exclusively available to customers who purchase their bike(s) directly from E-Bikeshop. We do not supply, fit or ship this product for bikes purchased from other dealers.
PLEASE NOTE: UNLESS INSTRUCTED BY US PRIOR TO ORDERING, IF YOU PLACE AN ORDER FOR THIS PART AND IT'S NOT ACCOMPANIED BY A EP8 DRIVEN BIKE IN THE SAME ORDER, THE ORDER WILL NOT BE FULFILLED AND YOU WILL RECEIVE A REFUND WITHIN 48 HOURS, MINUS AN ADMINISTRATION CHARGE.
Please Note: We use references to "Shimano", "EP8" and "Shimano Motors" only in the sense that this product is designed specifically to work with these eBikes. This product is NOT manufactured, distributed or endorsed by Shimano themselves.
This product can be added to your basket when purchasing your new bike and will be fitted at no additional cost while we build it for you, however, please note that if you do not specify this part when new and choose to have it fitted during its first free service, routine/annual servicing or other maintenance/service/warranty related work, a small labour charge will apply.
Because this product is specifically designed to derestrict the motor and so increase the maximum assisted speed of EP8 driven ebikes to more than the 15.5mph UK limit, they are strictly FOR OFF ROAD (PRIVATE LAND) USE ONLY! They may not be used on the road, cycle paths, bridleways or anywhere else where the public have access.
Due to the continued development of software by the drive system manufacturers, tuning and de-restriction products are supplied on the basis that they may only work with the software version and motor components of the bike supplied at the time the tuning kit is supplied and no warranty or guarantee is given that these will continue to be compatible with future software versions or upgrades offered by the drive system manufacturer.