Cube Nuride Electric Bikes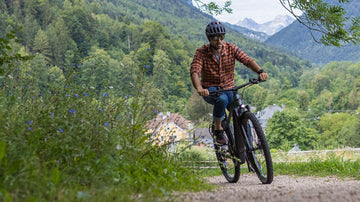 The Cube Nuride hybrid range heralds a new era of versatile riding, blending innovation with comfort for urban exploration or countryside escapades.
These bikes exude adaptability, featuring robust frames and intuitive design, ensuring a seamless and enjoyable ride. Effortlessly navigate through city streets or off-road trails with their agile handling and sturdy construction.
Powered by cutting-edge Bosch technology, the Nuride series offers a smooth and efficient pedal-assist, effortlessly conquering inclines. Loaded with practical features and stylish design, these bikes redefine urban mobility and outdoor adventures.
Cube's Nuride hybrid range is the gateway to a world of adaptable, electrifying experiences, promising endless exploration and unparalleled enjoyment on every ride.
Can't find the Cube Nuride electric bike you're looking for? Fill in our special order request form and we'll do our best to source it for you!
The Cube Nuride range of hybrid electric bikes is categorised by Cube as a hard tail mountain bike however it serves as a crossover between the Touring Hybrid leisure/trekking bikes and the Reaction Hybrid hard tail mountain bikes. Based on the Touring Hybrid and Kathmandu geometry platform but set up primarily for off-road riding, its a highly versatile machine which will cope with light off-road riding on forest and gravel paths as well as riding on smooth, paved roads.
The Cube Nuride Hybrid Performance uses a Bosch 625Wh battery. Bosch rate the 625Wh battery for up to 140 miles however much like with car manufacturers claiming MPG figures that don't quite add up in the real world, what you get from it will depend how you use it. Most riders using a mix of power modes in ordinary riding on moderate hills should expect around half this figure without issue. Those who are more economical with their legs and gears and use the lower power modes can expect around 100 miles to a charge and speed demons who choose to exclusively use the Turbo mode would expect around 30-40 miles from a full charge.
Cube as a brand offer exceptional value and the Nuride Hybrid Performance is no different. With a 75Nm Bosch drive system and a 625Wh battery, at its price point, you would be hard pressed or find it impossible to find the same or better spec at the same or less money. Its an outstanding bike at a price point which just makes sense.