Haibike HardTail 27 Electric Bikes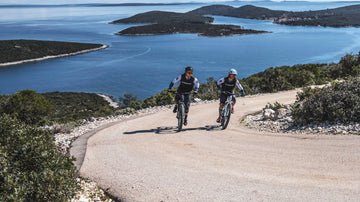 Haibike's 27.5" wheel electric hardtail mountain bikes offer agility and versatility, revolutionising off-road rides.
Combining powerful electric assistance with responsive handling, these bikes conquer rugged trails with finesse. The mid-sized wheels offer nimble manoeuvrability, navigating technical terrain while maintaining stability.
Crafted with robust frames and integrated motors, they provide reliable performance and enduring battery life, ensuring extended adventures. Designed for diverse skill levels, these hardtails offer customizable settings and reliable components, empowering riders to push boundaries and explore challenging trails confidently.
Haibike's 27.5" electric hardtails redefine off-road exploration, merging the thrill of mountain biking with the convenience of electric assistance for unparalleled trail experiences.
Can't find the Haibike Hard Tail 27 electric bike you're looking for? Fill in our special order request form and we'll do our best to source it for you!
Haibike's AllTrack range of electric hard tail mountain bikes come in lots of different specification levels. Each bike is made with a different "level" of rider in mind and so you'll find different brakes, gears and suspension on each, along with changes in drive system and battery size.
Yes and no. Technically, the bikes are identical. The AllTrack 5 27 and the AllTrack 29 are the same bike with the sames brakes, gears and suspension but the wheel sizes will be different. Haibike AllTrack models with 29 at the end have a 29" wheel set. The ones with 27 at the end will have 27.5" wheels.
Although the range of bikes is quiet vast, narrowing down the range is quite simple. Firstly, pick a wheel size. 29" wheels are best for fast, flowing trails where their better rolling speed and ability to roll right over lumps, bumps and obstacles is their major advantage. 27.5" wheels are more nimble and better suited to tighter, more technical riding where quick direction changes are prioritised. They're also better for shorter riders. Once you know which wheels suit your riding, narrowing down the specification (by model number) will be a personal choice based on the specification of brakes, gears and suspension. Getting the best value from the bike is key and so by finding the specification which matches your skill level now and then buying the next bike up will allow you some headroom as your skills increase, getting longer use from the bike before having to upgrade components or the whole bike.