Scott Lumen Electric Bikes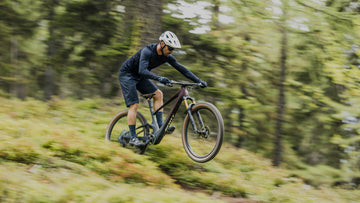 The Scott Lumen range embodies trail mastery, fusing ultra-lightweight design with cutting-edge electric technology.
These bikes redefine off-road adventures, seamlessly integrating robust electric systems into featherweight frames for an unmatched riding experience. With agile handling and durable construction, they navigate various terrains effortlessly.
The Lumen series offers adaptable assistance modes, catering to diverse trails and rider preferences. Crafted with premium components and enduring batteries, they ensure reliability and lasting performance on challenging paths.
The Lumen range exemplifies Scott's commitment to trail excellence, delivering an electrifying experience that empowers riders with exceptional lightweight performance, setting new benchmarks in super-lightweight electric mountain biking adventures.
Can't find the Scott Lumen electric bike you're looking for? Fill in our special order request form and we'll do our best to source it for you!
The Scott Lumen range is specifically designed with finished weight in mind. Tipping the scales at as little at 16kg, they really are some of the lightest full suspension electric mountain bikes to be made.
The Scott Lumen eRIDE range uses the latest TQ HPR 50 motor and drive system. Despite its lower than top end power figures, being so light it takes off like a rocket and its handling is dramatically improved by being so close to the weight and geometry of a non-electric bike.
The Scott Lumen eRIDE range has an internal 430Wh battery is rated for up to 100 miles on a single charge. Being a lightweight bike, getting close to this figure is quite achievable so long as the rider is efficient with their use of the power modes and gears together.