Scott Ransom Electric Bikes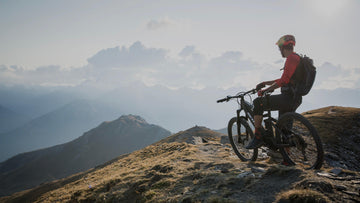 The Scott Ransom electric mountain bike range sets a new benchmark in trail domination by merging robust frames with powerful electric systems.
These bikes are versatile champions, seamlessly conquering climbs and exhilarating descents. Their adaptable suspension and precise handling offer unmatched control on challenging terrains.
Tailored for thrill-seekers, they provide customizable settings for diverse trails and riding styles. Crafted with premium components and enduring batteries, they ensure reliability and endurance on rugged paths.
The Ransom series embodies Scott's dedication to trail mastery, delivering an electrifying experience that empowers riders to conquer any terrain with an exceptional blend of power and agility.
Can't find the Scott Ransom electric bike you're looking for? Fill in our special order request form and we'll do our best to source it for you!
The Scott Ransom eRIDE range, with 180mm of ultra-plush Fox or Rockshox suspension (model dependent) is the "all mountain" solution to any mountain. Having won awards in nearly every tests its ever entered, the Scott Ransom range of bikes are for those who ride faster, harder and on the most aggressive stages in the sport.
The Ransom is an ultra-hard hitting bike designed for the most aggressive riders to cover the harshest of ground, hit the biggest of jumps and drops and as such, is expected to lead a punishing life. While modern carbon frames are extremely durable, a hydro-formed alloy frame will always be stronger and this is why Scott only make the Ransom with super strong alloy frames.
The Scott Ransom eRIDE range is arguably one of the best bikes you could choose for bike park riding. Offering Bosch's most powerful motor and a 625Wh battery, missing the uplift no longer matters! With the bike being built specifically for the very harshest of riding, its 180mm travel and top specification brakes and gears are designed to make sure you get the very best from every run, whether you're just starting out or already at competition level.