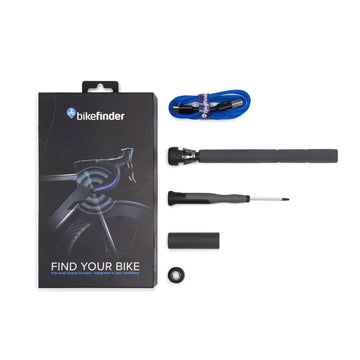 BikeFinder
BikeFinder GPS Tracker for all Electric Bikes
Europe-wide GPS, GSM and Bluetooth tracking for all bikes.


Each year in the UK alone, more than 285,000 bicycles are stolen and although more than half of those reported are eventually recovered, only 5% of them are returned to their owners.


Boxed or Fitted to bike?
When purchasing, you need to select either 'Boxed' or 'Fitted to Bike'. If you purchase a 'Boxed' version, this will arrive packaged in the BikeFinder retail packaging. If you select 'Fitted to Bike' the tracker will be fitted to the eBike you're purchasing in the basket. As the kit is fitted on arrival, it will not arrive in retail packaging, a charging cable is supplied for future use. 
BikeFinder requires a subscription to operate. This is selected when setting up the app. Subscription starts at just £2.99 per month:


| | | |
| --- | --- | --- |
| Monthly | Yearly | 24 Months |
| £4.99 p/m | £3.99 p/m | £2.99 p/m |

Using GPS, GSM and Bluetooth connectivity, the BikeFinder bike tracking system offers an additional, integrated layer of security to a traditional bicycle lock and is a helpful tool in recovering stolen bikes and ensuring that when found, its easily identifiable by law enforcement and returned to its rightful owner.


This product is compatible with both electric and traditional bicycles. 


How the BikeFinder GPS bicycle tracking system works.

The BikeFinder bicycle tracker offers "Freedom to ride, without fear of theft". 


It's neatly integrated in the handlebar of any bike (its very flexible and will even fit a road bike!) and secured using an internally opening grip solution with a security bolt. Once activated, its paired with the accompanying app, and you're ready to go.


Whenever you need to, you can open the BikeFinder app and locate your bike either for peace of mind, or in the event of a theft any time of the day or night. It can also alert you to suspicious movements. 


The internal USB-C rechargeable battery provides up to 8 weeks of complete autonomy. 


If your bike is stolen, you'll be able to see and track its live location and even report the theft via the app. 
Technical Details:
Dimensions: 221 x 92 x 61mm
Weight: 52g
IP67 Certified. FCC CE
Compatibility - All handlebars with internal diameter of 15-27mm.
Power Supply: 960mAh Battery
Autonomy: 8 weeks 
Communication: GSM (2G), GPS and Bluetooth (Europe Only)
2 Year Manufacturers Warranty

The Bikefinder application is available exclusively to bike owners in Europe for Android and iOS.