Days

Hours

Minutes

Seconds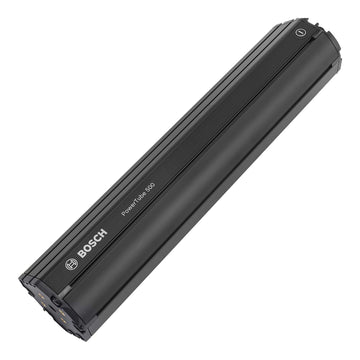 Bosch E-Bike Parts
Bosch PowerTube 500 Wh Integrated Battery
Bosch PowerTube 500wh Integrated Battery

This is the Bosch PowerTube 500 Wh Bosch Power Pack Battery. Available in both Horizontal and Vertical mounted options. This is suitable as a direct replacement for any of our Bosch eBike with the Performance InTube mounted battery system.
Handy as a replacement or to keep as a spare to increase the range of any Bosch eBike. Please note this is available in two options, please match the part number to the same number on your current battery to ensure correct fitment, when you login both options will show:
Vertical PowerTube Battery P/N: 0.275.007.540
Horizontal PowerTube Battery P/N: 0.275.007.539
On our bikes the Lapierre's generally use a horizontal battery and the Haibike's a vertical battery.

Features:
500Wh Capacity
Including Hazardous goods box and operating instructions
Rechargeable battery can be integrated into the bicycle frame
At 2.8 kg only slightly larger than the PowerPack 500
Easy and safe to insert and remove
Integrated battery management system ensures high mileage and long service life
No memory effect and no self-discharge
Please Note: This product is only available to customers who purchased their bike direct from us.
Due to production rates or product availability, these items are only available to customers who purchased their bike direct from us for a quick and convenient solution to further support the bikes that we sell. We do not supply these products to those who have bought their bikes from others dealers.

The ADD TO CART button will appear to pre-approved customers when logged in to their account. If this doesn't appear and you purchased your bike directly from us, please email us with a copy of your bike purchase receipt and we'll be very happy to add you to our approved customer list.

Please Note: It's not possible to ship batteries (alone) internationally. If you are ordering from outside Mainland UK, you may get a warning in the Cart. You can have them shipped within bikes boxes if ordered at the same time as a bike.