Days

Hours

Minutes

Seconds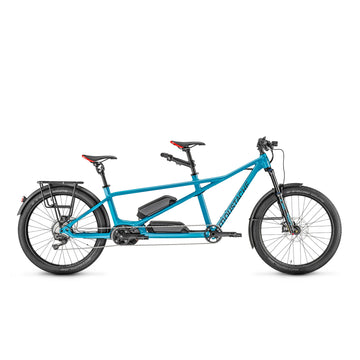 This item is now sold out & unavailable to order. We will leave this page here as a reference to the specification for this model.
View other products
E-Bike Key Specs
Moustache Electric Bikes
Moustache Samedi 27 x2 Tandem 2022
Specifications
General Bike Specifications
Frame 6061 T4 T6 Alloy, Extruded Hydro-formed Tubes
Forks Suntour Aion 35mm 140mm Travel
Rear Shock N/A
Brakes Magura MT5 Hydraulic 200mm
Shifters Shimano Deore 11 Speed
Rear Mech Shimano Deore 11 Speed
Cassette Shimano SLX, 11 - 42t 11 Speed
Chain Sram PC1130 11 Speed
Wheelset Exclusive Alloy 27.5+ 35mm Rims. Boost Hubs F15x110 / R12x148mm
Tyres TREKKING: Schwalbe Super Moto-X 27.5 x 2.4. MTB:Maxxis Rekon 27.5+ x 2.8, Dual Density, Tubeless Ready
Handlebars Front Alloy DB 760mm, Rear 680mm 25mm Rise
Stem Front Stem 55mm, Rear Adjustable
Headset FSA Semi integrated, tapered
Seatpost Front Alloy, Rear Suntour NCX Post 31.6mm
Saddle Moustache Ergonomic
Weight 29.9 kg
Electric Bike Specifications
Battery Bosch Dual Battery Setup 36 Volt, 2 x 500 Wh, with BMS Management
Display Bosch Kiox Multifunctional Display with Push Assistance
Motor Bosch Performance CX 36 Volt, 250 Watt. 50 - 340% Assist, 85Nm
Range 30-140 miles of power assisted range, depending on terrain
A fantastic bike shop. Everything you could need in a bike shop, assisted brilliantly with a new e-road bike purchase, bike in stock and super quick delivery, helpful advice with setting the bike up and a small warranty claim needed within the first year. All round great service, very quick response by email, very knowledgeable and friendly.
WOULD HIGHLY RECOMMEND - KELLY
Awesome E-Tandem
This is our second Samedi 27, one for our Johannesburg home and one for our Cape Town home, that's how much we like it.😁
A significant investment, but worth it.
My wife and I saw one of these in Barcelona a couple of years ago, and had wanted one ever since. We've been using tandems for more than 30 years, but as we have gotten older, we have cycled less - possibly because of the effort of gaining basic fitness. This is our retirement present to each other.
I really like the look of the bike, it gets a lot of attention when we are out on it. If I was being negative, I'd say it's very large, which makes transporting it somewhat difficult (Lifting 30+Kg onto a roof rack takes some doing). The overall length means I find it relatively unwieldy at low speeds having a large turning circle compared to our conventional tandem.
Does this mean I'm not happy with my purchase - not at all. The ride is extremely comfortable, it is very stable of both road and gravel tracks, the gearing means we can climb moderate hills with no great effort. The lights are excellent. The wide tyres maybe mean that the bike is not as fast as I'd expect downhill, and you tend to lose momentum surprisingly quickly on the upside of dips. The brakes are superb (although we have not yet done any long, sustained downhills)
If this all sounds rather like I lack enthusiasm, let me rave about the central feature, the motor. We had only briefly tried an electric bike before ordering the tandem. We liked the idea that we would be able to cycle normally, and use the assist on difficult sections, or steeper hills. I hadn't anticipated just how great that assistance is. It is like being given bionic legs. Hills where we would have been dragging ourselves up in low gear become easy even at the lowest level of assist. The occasional "This is too steep, we need to get off and push" becomes very manageable on the tour setting" - on our normal rides on the South Downs I have never needed anything more than the lower two settings. Briefly trying out the higher settings and it just feels like cheating.
We have had the bike for about six weeks, done about 4 rides the longest which was around 60km. Our average use of the assist is less than 20% of the time. As a result our battery usage has never dropped below 80%. I would anticipate getting 150km range once we are fitter.
Overall, this tandem is everything we could have wanted. I hope this will prove to be an investment that will keep us cycling well into our later years. Highly recommended.
My wife and I are very experienced tandem riders
My wife and I are very experienced tandem riders and have been using one for 30 years. We sold our top end Thorn tandem to purchase the Moustache Samedi tandem. Initial impression is this bike appears intimidatingly large. However the instant you start, you realise how mistaken you were. The weight seems to disappear and it's comfort is truly unbelievable. Anyone who has ridden as stoker knows how painful it can be on the back. Not so on this bike. The fat tyres are the first place the road shock is attenuated, then the seat post is sprung and is simply wonderful. We were worried in case it set up a resonant bounce and maybe sap power, but we haven't found that to be the case for us. We did change the saddles as we weren't so keen on the OEM items.
The handlebars are massively wide and are truly a nod at the mountain bike side of its personality. We lopped a couple of inches off both sides. We did spec the bike a little bit differently from how Moustache wanted me to have. We changed the electric motor sprocket and raised the gearing by a couple of teeth. However, to balance that out, we also fitted a super wide rear cassette and it has been perfect. The bike climbs incredibly well, but also really motors on! The front suspension is great and takes all the jarring out for the captain. The bike is a long beast, but both it's high speed and low speed handling is exemplary. We have had to be a bit imaginative to find another place for a bottle cage. We now have a bottle rack mounted under the stoker's handlebar stem. Braking is via hydraulic discs. Very powerful but I'd really like to add a drag brake for long descents. The discs do start to fade on VERY long descents. We've also found the front can make a bit of noise when it is NOT being used. We added a substantial side stand because I don't like leaving the bike leaning against a wall when we stop. The lights are astounding with a great beam pattern. The bike very sure footed when hammering round bends. We've also used it off road and over fields and that warrants another tick in the box. The bike is very appealing, so please make sure you purchase (and use) a high quality lock. Good locks are heavy, but so is the bike! We always use a pannier so we have a place to keep it. I do have a gripe though. The Bosch Nyon dashboard is ok, but the inbuilt SatNav is a total waste of time. It is REALLY disappointing. It is not intuitive, The operator has a choice of navigation modes (MTB, Curvy roads or fastest route) and the fastest route is far from good. Often it leads you onto un-navigable tracks, peoples gardens and across fields. Come on Bosch please get this feature sorted. Maybe pair up with Garmin!
So there you have it. A stunning bike.
double batteries much more than needed for even
Bought the 2018 Trekking version in July 2018. Completed 900 miles now. It easily converts to off-road with a pair of 3x27.5 Nobby Nics (takes about an hour). Lots of positives: extremely well made and rigid frame, suspension (front and rear) works well, double batteries much more than needed for even a very long, loaded-up day's ride, carries easily on roof tandem rack, superb disc brakes and groupset is a pleasure to use. Downsides? Heavy (30kg), gearing not high enough for faster speeds (easily changed). And we've snapped two rear chains. Purchased a German 11-speed replacement with 1000kg tensile strength(works better). A joy to ride and manages the red runs off-road. A winner. Makes us smile every time we sit on it. The best we've ridden in 28 years of tandeming.
to replace our 20 year old Dawes Kickback
Purchased 2018 tandem in February this year (touring version) to replace our 20 year old Dawes Kickback two tandem which had been converted to electric rear wheel drive. Now completed about 600 miles since new and we are very pleased with our choice. It is like going from a basic old Mini to a Rolls Royce. Had to remove the stoker suspension post as my stoker (wife) is too short to use this. We did have an initial problem with a rattling noise from the back wheel, this turned out to be about 3 loose spokes but cured by tightening up a little.
This is a superb piece of kit, anyone thinking about getting one, we don't think you will be dissapointed.