Days

Hours

Minutes

Seconds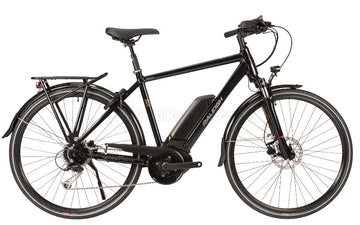 This item is now sold out & unavailable to order. We will leave this page here as a reference to the specification for this model.
View other products
E-Bike Key Specs
Raleigh Electric Bikes
Raleigh Motus Grand Tour Crossbar 2021
Specifications
General Bike Specifications
Frame Alloy 6061 Cross Bar Frame
Forks Suntour Nex suspension fork 50mm travel
Brakes Tektro Hydraulic Disc Brakes 160mm
Shifters Shimano 9-Speed Trigger or 7 Speed Twist (Hub Gear)
Rear Mech Shimano 9 Speed Alivio or Shimano Nexus 7 Speed Hub (Hub Gear)
Cassette Sunrace 9-Speed Cassette 11-39t or 22t Sprocket (Hub Gear)
Chain KMC 9-Speed Chain or KMC Single Speed Chain (Hub Gear)
Wheelset Double wall rims on Alloy Disc Hubs
Tyres Mitas 700x42c Puncture Resistant Tyres
Seatpost Alloy Suspension Seatpost 30.9mm
Saddle Selle Royal Milo + Comfort
Luggage Carrier Alloy Pannier Rack
Mudguards Full length Mudguard set
Stand Alloy Fold Away Kick Stand
Weight 23.5 Kg
Electric Bike Specifications
Battery Bosch Lithium Ionen 36 Volt, 500 Wh, with BMS Management
Display Bosch Intuvia Multi-Functional Display with Push Assistance
Motor Bosch Active Line Plus 36 Volt, 250 Watt. 40 - 270% Assist, 50Nm
Range 30-120 miles of power assisted range, depending on terrain
I recently bought 2 Raleigh Motus Grand tour lowstep
I recently bought 2 Raleigh Motus Grand tour lowstep 500wh electric bikes. They are fantastic to ride . The combination of 4 power levels and 7 gears makes cycling a very enjoyable event. Going up the steepest hills where I live in Scotland is so easy that you feel like you are floating on air . On a steep hill, I choose either top power level or second top level and use 3rd gear and then just turn the pedals gently for a very easy assist up the hill. When on flat roads , even with the power turned off, it is easy to make the 25kg bike move along at 15-20 km per hour. The range is fantastic, depending on the power level used of course. After a 34km bike ride today the battery had only dropped from 5 bars to 4 bars and I still had a range of 30km to go in top power level if I wanted. The features on this bike are marvellous.. I wish I had bought this bike a few years ago.
It is superb!! Get one!!
I thought that you might like to receive a
I thought that you might like to receive a testimonial from a satisfied customer!
While leading a recent ride along the Basingstoke canal I misjudged going under the last bridge by the Mytchett Basin and ran out of towpath finishing up bike and rider in the canal!
It was very deep in the middle and after swimming up to the surface and after a lot of effort and help from the bank ( when they had finished laughing )
we managed to get the bike out onto dry land. Amazingly with no ill effect on the electrics and continued the last 400 metres back to the car.
After drying out the panniers and the contents everything is just fine. (apart from hurt pride)!
ve owned the Raleigh Motus Crossbar for nearly two
I've owned the Raleigh Motus Crossbar for nearly two years now and I have to say after owning two previous E-Bikes, this is absolutely the best, in fact its outstanding in its performance, reliability and ease of use. I've just completed 3,000 miles on the bike without any faults developing at all, although this would not have been a problem if I had due to the generous warranty.
The Bosch Active Line motor is flawless and powerful when ascending those steep hills. The display is great and actually displays the time as well, a valuable asset when cycling to work, unlike most other E- bike displays. I've really tried to find fault with this bike in the interest of a fair review but, there simply aren't any. Its robust, quiet and stylish. I like it and would highly recommend this bike to any commuter. Five stars.
The Raleigh Motus hybrid bike fitted exactly what I
The Raleigh Motus hybrid bike fitted exactly what I was looking for to handle my commute in the morning (the round trip is 13 miles). This is a fantastic bike and certainly the best bike I've ever owned. I use it for commuting to the train station five days a week; it suits this purpose perfectly.
I'm on the road most of the time however there is also a long stretch on a tow path; this is quite bumpy but the suspension on the forks and the seat post is more than capable of tackling the knocks. A very comfortable ride, with the icing on the cake being the electric assist. No more sweaty arrivals at the station, I'm sure my fellow commuters appreciate that too!
Just received the Raleigh Motus Crossbar of which was
Just received the Raleigh Motus Crossbar of which was delivered pretty much set up apart from the handlebars and the brake lever needed adjusting slightly.
Having checked the bike out visually and just going for a very short ride, the bike is obviously a quality really well made bike which you would expect from Raleigh, the only thing for me is it is maybe slightly to big for me, but I am sure will be ok, so just check the dimensions before buying of which it does state on the specifications!
Once I have done a few miles I will either add to this review or put another one on.