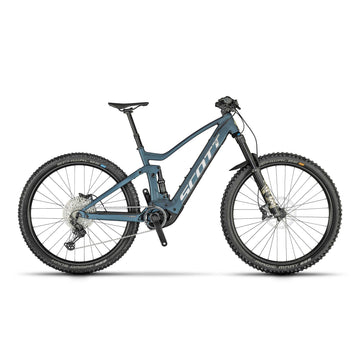 This item is now sold out & unavailable to order. We will leave this page here as a reference to the specification for this model.
View other products
E-Bike Key Specs
Scott Electric Bikes
Scott Genius eRIDE 920 2021
Specifications
General Bike Specifications
Frame Alloy frame, 27.5/29" compatible
Forks Fox Rhythm Air, 160mm w/Remote Lockout
Rear Shock Fox Float EvoL Performance Trunnion 150mm w/Remote Lockout
Brakes Shimano Deore MT420 4-Piston, 203mm rotors.
Shifters Shimano Deore 12-Speed
Rear Mech Shimano XT 12-Speed
Cassette Shimano CS-M6100, 11-51t 12-Speed
Chain KMC e12s 12-Speed
Wheelset Shimano Hubs on Syncros MD30 30mm rims
Tyres Schwalbe Magic Mary front, Hans Dampf rear, 29 x 2.6"
Handlebars Syncros Hixon 2.0 Alloy, Double Butted, 12mm rise, 780mm
Stem Syncros FL 2.0 Alloy Stem, 31.8mm
Headset Acros BlockLock Tapered Headset
Seatpost Syncros Duncan Dropper, Remote, 31.6mm
Saddle Syncros Tofino 2.5
Weight 23.4 kg
Electric Bike Specifications
Battery Bosch Lithium Ionen 36 Volt, 625Wh, with InTube Integration
Display Bosch Purion Multi Functional Display
Motor Bosch Performance CX 36 Volt, Gen 4, 250 Watt. 50-340% Assist, 85Nm
Range 30-140 miles of power assisted range, depending on terrain
A fantastic bike shop. Everything you could need in a bike shop, assisted brilliantly with a new e-road bike purchase, bike in stock and super quick delivery, helpful advice with setting the bike up and a small warranty claim needed within the first year. All round great service, very quick response by email, very knowledgeable and friendly.
WOULD HIGHLY RECOMMEND - KELLY
ve been riding MTBs and road bikes for 20
I've been riding MTBs and road bikes for 20 plus years but due to a serious knee injury had to stop. E-Bikes have allowed me to return to the saddle. The Scott is my second bike after upgrading from an entry level machine (Gepida - Asgard).
I've only done 100 miles on the Scott but have done enough varied terrain to now give it a review.
First off, the bike looks amazing. Massive wheels and tyres, slick geometry, internally routed cables, cool colour scheme and the gold finish to the suppension and seat post complete the look. My brother rides a full sus Mondraker, which is a nice bike but his jaw hit the floor when he saw the Scott.
From stock, I changed the seat and added bear traps plus some tioga power studs (I'll explain later) Other than that the kit is comes with is excellent.
My old bike had the Bosch system and I wanted to stick with it as it is so good. To get the best from the motor you need to spin. This is made easier with the new 11 speed rear casette. Specially designed for e-bikes. The system provides instant power and the gearing allows you to climb virtually anything. The system comes with the Purion system. This has been purposely kept smaller and sits on the left of the bars rather than centrally like the bigger Intuvia unit. I have to say i prefer the Inutivia unit. The Purion does not have as many features, has a much smaller screen and is slightly more difficult to operate when travelling. I know there has been some effort to disguise that some bikes are ebikes. Why? I couldnt care less who knows I'm riding an ebike. I just smile as I go past them. But really the fact it is an ebike should be exploited - more data for the rider is a good thing. I have been tempted to upgrade to the nyon - but another £350 is a lot.
The battery is a 500w unit. So far it is has performed well and as long as you use the power settings accordingly you can get 40 miles out of it using Turbo or Sport mode. Cold weather however makes a massive difference. I went out in near freezing conditions and ran out of battery after 31 miles - that was using tour and eco modes as well, and on relatively flat ground. If this was a seriously hilly ride you'd be looking at 15 miles tops so bear that in mind. I'm hoping Bosch will release a 1000w battery at some point that will fit all of their current systems. On longer rides I am looking at carrying a spare battery but at £700 that's not cheap either. There is an arguement to use the bike in lower eco and tour modes - but quite frankly I don't want to. It's why I bought he bike in the first place, to stick it turbo and hoon around everywhere!
I have the largest frame size, and at 6'5" it fits very well. The bars are very wide which again is a good thing for me. The stock stem is very short though, but instead of changing it I added tioga power studs. I like the flexibility they give for various hand positions. The guys at e-bikeshop set up my suppension for me which was great. I am a heavy rider (19st) but have not had a problem with the bike. The sus lock lever is great for climbing and for when you have to do tarmac sections.
Uphill this bike is amazing. I can't fault it. Downhill it is equally at home, plenty of stopping power when you need. I felt a bit rusty going downhill but the bike gave me confidence as it soaked up my mistakes. The huge tyres are great across grass and through mud, which is an area I used to hate, but the ebike power makes this enjoyable. I am so glad I ignored the purists and got an ebike. I looked at quite a few brands for my upgrade - Haibike, Specialised, LaPierre but my choice of the Scott was a good one. It is a very capable machine which would suit all rider abilities. It is a bit more expensive than some of the other similar spec'd bikes but in this case you get what you pay for. It makes me smile every time I ride it, and thats worth every penny.
Buying from e-bikestore was very easy. They know their stuff and are friendly no matter what stupid questions you ask. I would have no problem in recommending them for your next ebike.
Just a quick email to say the bike arrived
Just a quick email to say the bike arrived this afternoon, and looks fantastic.
Thank you very much for all of your assistance.
Peter Hebdon
Invereen
Newtonmore
nor recover as quick as I used
I've ridden mountain bikes since the late 80's but illness means I can't ride as far, as fast, nor recover as quick as I used to and I hoped an E-Bike would make up my lost ground. This Scottt certainly does that in Eco mode! It's put the grin back on my face to be travelling the terrain at speed again with my lungs remaining internal and no fatigue hang over.
The bike itself is brilliant, nicely balanced and rides like a dream, the motor helps the ups and then the extra weight helps the downs and it steers where you point it, no flex or turning issues, a great true ride. Oh and I can still bunny hop (when needed of course, no gratuitous showy nonsense).
It's also got a great spec with 11 speed and my preferred Fox forks enhanced by the Scott lever widget that means you can change from Climb to Trail to Descend from the bars. It also has the dropper post as standard which will come into its own when I make the pilgrimage to a bike park or two which are now back on the menu because of this bike.
Finally, if you are like me you would have done your homework before shopping but Google is no substitute for the knowedgeable helpful people at EBikeShop who talk you through your requirements to ensure you get the bike that suits you and your riding plans.
Thank you for your help in getting me the right bike and back on the trails.
Emtb Coaching have tested one of these Scott e
Emtb Coaching have tested one of these Scott e Genius plus and they are capable emtbs. Providing perfect grip yet being agile enough to throw it around when needed. The plus size combined with the battery are a match made in heaven. 5 stars from EMTB Coaching.