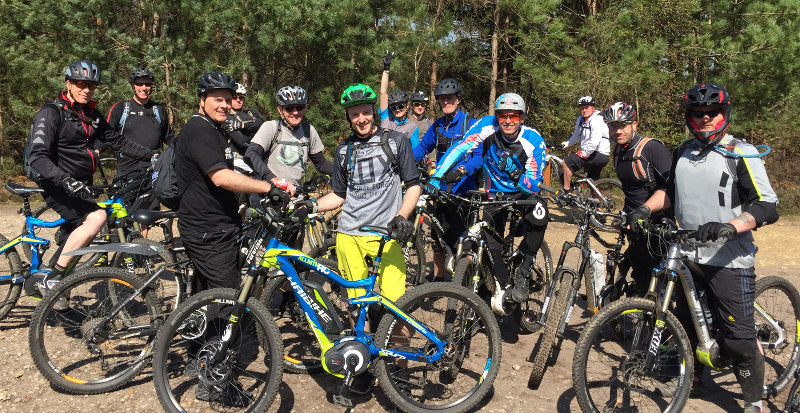 E-Bikeshop Owners Club Ride: Swinley Forest April 2015
By Martin Brown |
On Sunday 13th April the E-bikeshop Owners Club got set for a great days riding at Swinley Forest. The club is filled with a great mix of people, from ladies to gents of all ages. The main aim is to enjoy eBiking in the UK and most of all have FUN with fellow eBikers! We all met mid morning in the car park for a quick ride brief, although mid morning, the sun was already out in full glory for what was set to be a fantastic day!
It wasn't long before we were hitting the first trail, warming up on the mild blue run before joining the slightly more technical red route. On this ride we were also joined by Alex & Nick from EMTB Coaching, offering some great practical trail advice. Thanks to Nick for looking after Kirsty - One of our newest members.
The trails were fast and smooth thanks to the great weather. The slight rain fall the day before meant that there was little dust, allowing us to power on and keep the pace going.
Due to one small mechanical, we stopped for 10 minutes (to replace a broken chain link). Two other riders flew out of the trail, one stopped and looked at my eBike. 'Thats Cheating' he mumbled whilst pointing at the Bosch motor. I looked at him and said 'Wouldn't say that here mate, there's more of us than there is you'. As he looked sheepishly around and realised he was in the middle of the E-bikeshop Owners ride and there was 14 of us dotted around them... Brilliant! We gave him a quick demonstration and allowed him to go for a quick blast, which followed by a smile, a few questions and then the question - 'Where can I get one of these?' It's a common occurrence us eBikers have to go through. In fact I must have counted at least 5 people that had a go whilst on our ride.. 30 seconds on the eMTB and they 'get it!'
We did stop at 'Jump Valley' for a short while for some 'air time' and general eBike nattering. Unfortunately we did have one fall here from fellow club member Bernie, however due to his new body armour (purchased the day before) he was back up and smiling again in no time.
The eBikes certainly attract a lot of attention whilst out riding. So many people asking, is this a demo day? No! We replied - We are all eBike owners. After approx. 18 miles of trail bashing the ride concluded with much needed tea and coffee at the café on-site at Swinley forest.
To sum it up?
What a great day, joined by a great bunch of people, great trails, fantastic weather and of course plenty of smiles. The feedback was tremendous, every single rider had a great time. That's what it's all about! The E-Bikeshop Owners Club is a closed group of riders, if you have purchased a eBike from us and want to get involved, please get in touch..
More pictures in the gallery here: