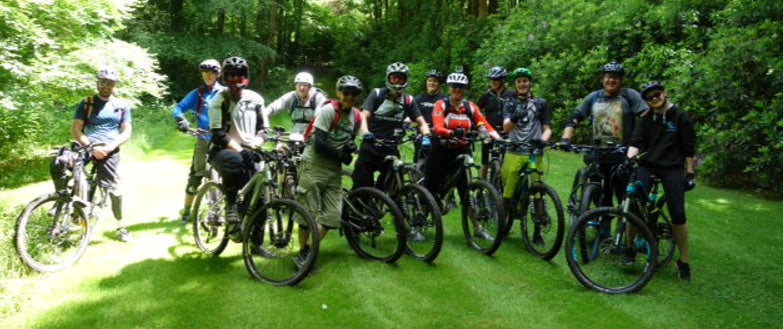 E-Bikeshop Owners Club Ride: Blackdown June 2015
By Martin Brown |
Sunday 21st June 2015 saw another amazing E-Bikeshop Owners Club outing, this time in Blackdown, Surrey UK. The action packed ride passed through the top of the South Downs as we blasted across the singletrack and trails of Haslemere on our electric bikes. After a quick head count and intro, we gulped a cup of tea, introduced new riders to the club & set off pretty promptly. Fortunately this ride was planned from a country house in the heart of Blackdown, so we literally crossed one tarmac road and we were straight out on the trails.
We had a mix of terrain from bridleways, single track and faster downhill sections all off road of course, with some stunning views along the way. Thanks to Sam for plotting out a fantastic route & keeping the ride flowing.
Some of the climbs this time were particularly steep, but that's where 'Turbo' mode came in handy, as we proceeded up some really tough climbs, that's when you really feel the benefit of the eBikes, arriving at the top ready and pumping for more!
We had one quick mechanical stop, due to one owner who had converted to tubeless just before the outing, his tyre went flat as it was 'settling in' so a short stop and some quick hand pumping and we were back ready again.
Unfortunately didn't get too many action shots this time as we were all enjoying the ride too much, but some good descents to follow the climbs made it really satisfying as we blasted down some faster sections crossing small streams and gulleys.
Some jaw dropping views along the way, looking out as far as Hampshire across the downs, you could see for miles! This gave a good excuse to stop and catch your breath.
This ride saw a short stop at a country pub for a quick tipple and a top up of vitals. We then headed back up a gruelling climb, fortunately the electric mountain bikes took the zing out of it and we were back to the top in no time.
To conclude the ride, we ended up back up at a fellow owners club member's house for a dip in the pool, nibbles, drinks and a BBQ. What a great day, with amazing weather, a great bunch of people, fantastic riding and lovely food. It's going to take a lot to top that all on the next outing!
We rode approx 16 miles, which doesn't sound a huge ride, but we covered lots of tough climbs too. The ride was approx 3 hours followed by another 2-3 hours or so chilling by the pool until the sun fell behind the trees.
To sum it up?
Judging by the smiles on the day, and the feedback following on the Owner's Club page, everyone had a great time. Big thanks to Sam and Jenny for their fantastic hospitality following the ride.
Owners - We are already busy planning the next ride: Keep your eyes peeled! Ride Safe. The complete photo album will be uploaded to our Facebook Page in the next few days. The E-Bikeshop Owners Club is a closed group of riders, if you have purchased a eBike from us and want to get involved, please get in touch.