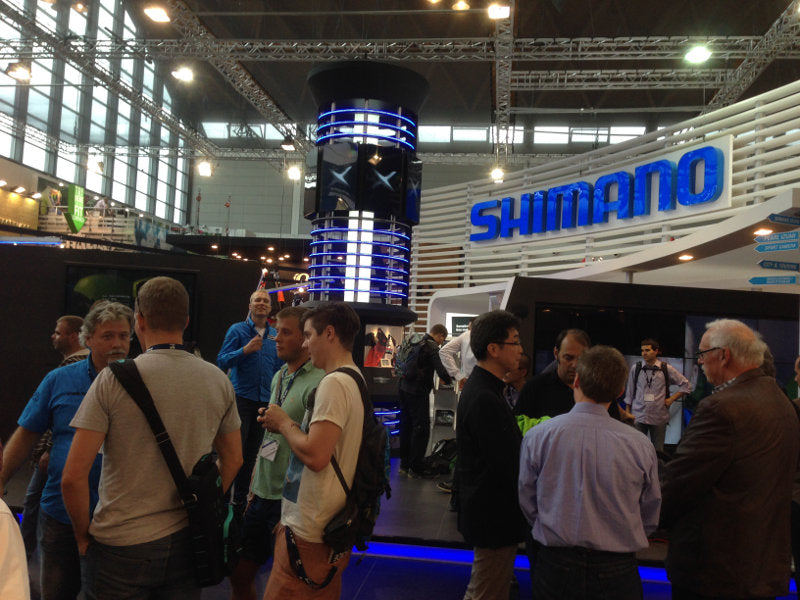 Interesting Electric Bikes at Eurobike 2014
By Martin Brown |
E-bikeshop visit Eurobike 2014 in Friedrichshafen (Germany) to view the latest line up of prototype and production run electric bikes for 2015. The show was very interesting and we tried to cover most of it in the week that we were there. The show is made up of over 1300 exhibitors from 54 different countries. Its the best place to go to see all that is evolving in the eBike world.
We were going to picture everything to show you from the comfort of your own home, although this was almost instantly deemed impossible due to the sheer size of the show! Below are just some of the pictures of the most interesting products that we saw at EuroBike 2014. Enjoy.
Here it is: The worlds first full carbon mountain eBike! Sex on wheels? This ones the prototype.
Every wanted to commute in the rain? Its Ok I suppose until that big gush of wind comes along!
Panasonic have been working on some new eBike display, this is the first LCD display to feature within the Panasonic system.
2015 Nicolai here which we thought was a real integral way of mounting the Bosch eBike motor and battery,
Look really smart, how practical it will be to have the battery in the firing line of the front wheel we don't know?
The new craze! Fat bikes, but with a Bosch motor? Makes sense! This is new for the 2015 Haibike line up.
Conway have stashed the Bosch battery inside a huge box, why you may ask?
Well it appears you can have your battery covered and all your essentials stored inside neatly.
An inside look at the new Continental Pinion gear box system, enough going on in there?
Nice new paint job and a spec too for the new Moustache Samedi 27/9 eMTB for 2015.
Ever get home and wonder what it would be like to not have to wash your bike? Here you go you can have your very own bike washing station!
Our favourite - The new Haibike NDURO PRO 2015 model. Set up ready for full on enduro riding! Features Nyon for 2015.
Plenty taking a closer look at the new Shimano Steps eBike system. We took it for a spin on the test track.
Crazy way of adding power to your regular bike, we think it looks rather unattractive?
Had to picture this, its rather old school now to bolt a motor onto your existing bike, but there are some manufacturers still trying to make bling equipment.
A sneaky glimpse of the new 2015 Haibike AllMtn Pro due to us shortly!
Here is how Flyer mount the Bosch eBIke motor onto their electric MTB.
One of the neatest designs we have seen integrating the Bosch eBike motor seamlessly with their own case design.
Crazy new colour schemes for the new 2015 Lundi eBikes from Moustache. Certainly see that coming!
Ever wondered what the inside of a Bosch Performance motor looks like? Well here it is..
The Hard Seven SL from Haibikes new sDuro range for 2015.
Quick look into Panasonic's latest eBike drive motor unit. This cut in half demonstrator shows the skilled engineering.
The all new FS 500 & FS 900 from Lapierre's new Overvolt eMTB range.
Yamaha powered Haibike AllMtn RC here in the flesh ready for the 2015 range.
We took a peek into the inside of Panasonic's latest eBike battery pack. Interesting eh?
This is new for the Moustache range, a speed pedelec. Built with the Bosch 350w motor, this presents an all round fast eMTB.
The new Haibike Full Seven RC 2015 in a really neat colour scheme. Available today!
The Bosch stand was buzzing the whole week with people grasping the new Nyon system in their hands!
We saw a few eBikes at the show with Brose motors, although this one has to be the best for integration!
BMC prototype road race bike, should stand up in a wind tunnel pretty good?
The new Fat eBike from Moustache! Has a lovely battery cover designed by Mr Starck himself. This one for the snow..
Strange way of mounting a rear shock on a Bosch eBike? Wonder how it rides?
The new Nuvinci 360 Harmony system fully integrated here using the new Gates belt drive system. Bulletproof drivetrain?
Suspension wheels anyone? Yes thats right, they seem to work too! A british designer showing off these wacky creations.
The new Bosch Nyon display looks very attractive and it has loads of neat features for those gadget fans!
Another fat eBike from Moustache, this one designed for sand conditions.
There you have it! A quick glimpse of what 2015 has in stall for us in the electric bike world, sorry we could not have posted every picture, the article would have gone on forever!
You can view many of the up and coming 2015 electric bikes in our shop by clicking here.