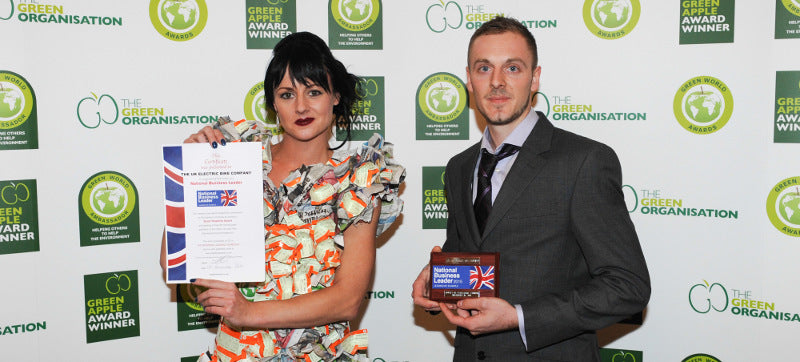 E-Bikeshop Gain National Business Leaders Status
By Martin Brown |
On Monday 16th November 2015 The UK Electric Bike Company was awarded National Business Leaders of the year at the Houses of Parliament, London.
Earlier in the year E-Bikeshop won a prestigious Headline Award presented at a ceremony in the London Transport Museum, more than one million companies of all types and sizes were invited to apply for the regional and national awards. E-Bikeshop won National Silver in Retail. In light of their award, they were one of a handful, put forward to become a National Business Leader. The National Business Leader awards ceremony took place in the Houses of Parliament in the evening of 16th November. Over 600 people attended on the day of which 13 companies were awarded with National Business Leaders status. Awards speaker Michael Cooke, ex MP for the environment read out a brief synopsis:


"The company started as a one man band back in 2008 but with dedication and persistence, company director Martin Brown has grown the business into the UK's largest independent eBike supplier - and it is now one of the biggest in Europe. With a new Sales & Distribution centre in Farnham, Surrey opened last year; they are already planning their next expansion. Well done."


Whilst Aleah Leigh, world fashion designer, presented the trophy and certificate, appropriately dressed in her latest design made of completely recycled materials. The UK Electric Bike Company will feature in next year's National Business Leaders handbook.
This will be distributed free of charge to thousands of businesses, organizations, trade associations, national / local government, banks, consultants and the media to benefit from following the experience and expertise of the National Business Leaders. The National Business Leaders handbook will be printed early next year and is designed as a work of reference to help companies and individuals to learn from the experience & success of National Business Leaders.