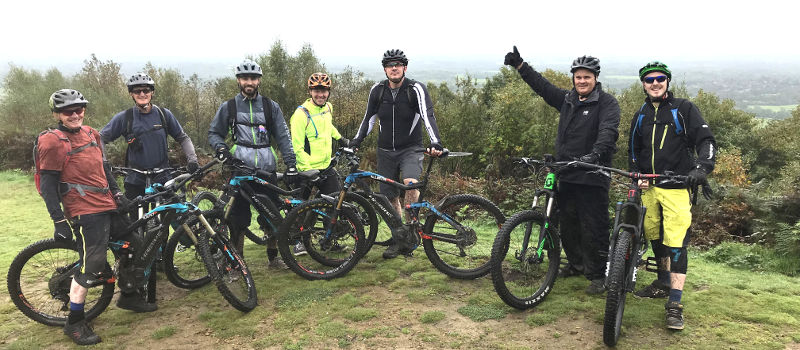 E-Bikeshop Owners Club Ride: Peaslake (Surrey Hills) October 17
By Martin Brown |
On Sunday the 1st October, the E-Bikeshop Owners Club met at Peaslake in the heart of the Surrey Hills for an off-road adventure on electric mountain bikes.
It all started in the main carpark of Holmbury Village Hall. We immediately tackled a harsh climb, it certainly got the blood flowing and thank god we were on eBikes! The trails were the almost perfect conditions, not too dry as dust flies up, but not too wet either. Nice grippy and flowy for the perfect balance of trail riding. Fortunately, the weather held off all day and although some later trails offered some bigger puddles, this all added to the fun. Get stuck in and power through with the eBikes! Local club riders Chris and Ken led this one, so thanks from all the members to both the guys for leading, the whole day offered some fantastic 'off piste' trails that are hidden and we'd have never found these fantastic trails if it wasn't for the guys. We covered some of the famous trails including 'Barry Knows Best', 'Telegraph Poles' & 'Yoghurt Pots' before heading to the cafe for a coffee and bite to eat. This then followed with some more vigorous DH tracks in-between fast flowy singletrack. Certainly, put the electric bikes through their paces and kept all riders gripped for more! All in all a great day out, it just started raining as we got back to the car park, so again we judged the weather perfectly on this one. No mechanicals at all through the day at all, great! We did have one off which involved club member Ben coming to a stop (mainly using his face!) on the famous 'Barry Knows Best'. Fortunately, as a team player, Ben wiped the blood off and got straight back to it. Well done Ben!
Again thanks to Chris and Ken for leading the pack, truly great trails with great people, well done. The next ride is up and live now on the Owners Club page. So take a look and click 'Join' to confirm attendance. We will, of course, publish all the photos of this ride on the ebikeshop club page in the next few days, don't forget to tag yourself in them.
The E-Bikeshop Owners Club is a closed group of riders, if you have purchased an eBike from us and want to get involved, please get in touch.