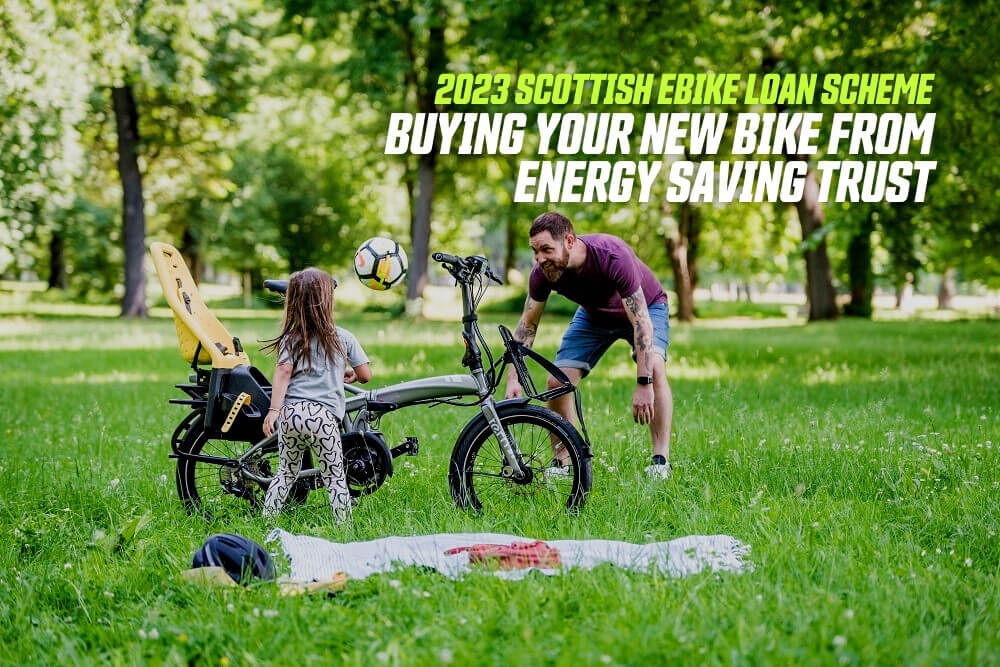 Scottish eBike Loan Scheme from Energy Saving Trust
By Ben Mowbray |
The Scottish eBike Loan scheme is provided by Energy Saving Trust on behalf of Transport Scotland and allows residents of Scotland to apply for funding of up to £6,000 to purchase a greener, more sustainable method of travel.
Who are Energy Saving Trust? 
The Energy Saving Trust is an independent organisation working to address the current and future environmental impact of humans on our planet. 
A "Profit for Purpose" organisation, their profits are turned back into the business to continue to fund their mission to reduce human impact on the environment we live in.
Founded in 1992, Energy Saving Trust was set up immediately following the United Nations Earth Summit in Rio de Janeiro. Their initial role working with energy companies later developed to working with government towards a low-carbon and renewable alternative to fossil based fuels. 
Now, they reach over 1 million customers each year and remain committed to supporting the individual governments of the United Kingdom with their own energy saving targets and commitments and through this, are actively supporting and enabling Scottish residents to switch to using electric bikes. 


What bikes can you buy in the Scottish eBike Loan Scheme? 
The Scottish eBike Loan Scheme isn't unlimited in the price of bikes you can purchase, but it does still offer exceptional value to those looking for a good quality, widely supported ebike with well recognised drive systems from the likes of Bosch and Yamaha. 
Each family is able to apply for:
2 eBikes (Capped at a value of £3,000 each), or
1 Family eCargo bike (Capped at a value of £6,000), or
1 Specially adapted bike (With a value to be assessed case by case)
At the time of writing, we have over 50 bikes which can be purchased through the scheme, and you can see them all on our dedicated Scottish eBike Loan Scheme page. 
What are the terms of the Scottish eBike Loan?
The Scottish eBike Loan is a loan made to an individual (subject to credit and affordability checks) for amounts up to the above stated maximum amounts without administration fees or interest. Its repayable over 4 years and at the end, the bike is yours to keep! 
For a single bike this is £62.50 per month, for two it'll cost £125 and the same for an electric cargo bike. These figures are based on taking the maximum loan value. If you purchased a cheaper bike, your monthly repayments would be less but the loan term would remain the same. 
Applications for the loans are accepted and processed on a "First come, first served" basis and the Energy Saving Trust doesn't guarantee an unlimited number of application places or acceptances each year so its worth getting in early. 
How can you get a bike under the Scottish eBike Loan Scheme? 
The Scottish eBike Loan Scheme is open to all Scottish residents (subject to credit and affordability checks) and is a really simple process.
Here's how it works:
Pick your new electric bike (We're on hand to help if you get stuck)
Give us a call or drop us an email with the make, model, size (and colour if there's an option!), along with a full name, address and telephone number.
We'll produce you the Quotation that Energy Saving Trust will ask you for.
Call Energy Saving Trust on 0808 808 2282 to request your application form.
Fill in your form and return it to them along with your quotation. 
Once approved, Energy Saving Trust will pay you directly (and they'll later ask for proof of purchase).
You pay us, and we'll ship your bike. Normally it'll be with you in just a day or two. 
That's it! Normally you'll be out riding your new Scottish Electric Loan Scheme electric bike within just a few weeks. 
Pre-Order Bikes
Some of our bikes will be brand new model year bikes which have not yet landed. Often customers will place pre-orders weeks or months ahead of delivery schedule to ensure they get one. It is permissible under the scheme terms to leave a deposit (this is our normal £199 Pre-order Service deposit) to hold a bike while you go through the application process. This is either refunded on receipt of full payment, or applied as a discount to the order total with you paying the balance. 
Retrospective payment or use of the Scottish eBike Loan Scheme
Its not possible to purchase a bike, pay us in full, accept delivery and later apply to use the scheme. This is against the terms of the scheme, and our own. 
Here are just a handful of the bikes you can buy via the Scottish eBike Loan Scheme
All of the bikes included below meet the criteria of the scheme both from a cost perspective, but also that they are an electric bike as covered by the definition of a "legal" eBike in the United Kingdom; 
2023 Cube Reaction Hybrid Pro 625
The 2023 Cube Reaction Hybrid Pro 625 is the "go to" hard tail electric mountain bike for a multitude of reasons, not least its reputation for outstanding value and rock solid reliability.
2023 Orbea Vibe H30 Mid
Easily one of our most popular bikes with all types of rider, the 2023 Orbea Vibe H30 Mid is a super lightweight urban and leisure bike available in 2 frame styles (Mid and full crossbar), 4 sizes and 4 colour options. 


2023 Moustache Samedi X-Road 1
Moustache bikes are some of the most beautiful on the market. Each is hand crafted, providing a level of finish far superior to most of the rest of the options you'll come across. The 2023 Moustache Samedi X-Road 1 is no exception. 


2023 Cube Touring Hybrid Pro 625
Our "most sold" electric touring, leisure and commuting bike, the 2023 Cube Touring Hybrid Pro has been returning year on year with exceptional value and typical all over German engineering prowess. Available in 3 frame styles (full Crossbar, "Uni", plus the Easy Entry pictured above) and 5 sizes, there is an option for any rider. 


2023 Haibike Trekking 4 Crossbar
Haibike have been building bikes in Germany since the mid 90's but over the last decade have made a name for themselves first in the mountain bike market, and more recently in the hybrid and touring sector. The first company to offer a truly integrated "ground up" designed ebike, they have a particularly loyal brand following like no other which has spawned a vast online community. The 2023 Haibike Trekking 4 Crossbar is set to again be a highly popular option for leisure and commuting riders. 


2023 Tern GSD S10 eCargo Bike
The 2023 Tern GSD S10 Electric Cargo Bike is the "does everything" solution for urban environments. Whether you're looking to do a weekly shop, take the wee ones to school or just potter along the local canal paths and byways, Tern have neatly engineered a solution in their phenomenal range of accessories to account for every use case. Its also available in Orange. 

Ready to buy your 2023 Scottish eBike Loan Scheme bike? 
Get in touch and we'll be very happy to walk you through the process of selecting your new electric bike using the Scottish eBike Loan Scheme from Energy Saving Trust. 
If you're already ahead of us and know which bike you're looking for or want to browse the most popular options, you can find them on our dedicated Scottish Electric Bike Loan Scheme page.