Haibike Trekking Crossbar Electric Bikes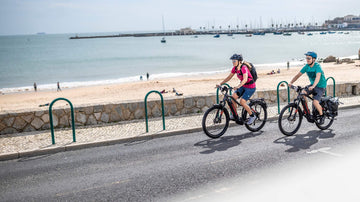 Haibike's Trekking bikes with crossbar frames embody versatility and comfort, perfect companions for urban commutes or countryside exploration.
Engineered with durable frames and ergonomic designs, they offer stability and support for long rides. With crossbar configurations ensuring a traditional riding position, these bikes provide ample clearance and a balanced centre of gravity.
Equipped with reliable components and adaptable features, they accommodate varied terrain and luggage needs. These Haibike Trekking bikes prioritise rider comfort with adjustable saddles and handlebar components, making them ideal for daily commuting or extended tours.
Haibike's crossbar-framed Trekking bikes redefine versatility, blending practicality with comfort for seamless cycling experiences.
Can't find the Haibike Trekking Crossbar electric bike you're looking for? Fill in our special order request form and we'll do our best to source it for you!
Haibike's range of Trekking bikes are designed around the "hybrid" design principle and will cope with most types of riding with complete ease. With a fairly upright seating position but rugged frames, built in pannier racks, mudguards, light and a side stand, the Haibike Trekking models are for those who do a little bit of everything. Tarmac and paved road, gravel paths and light forest trails and fire roads are where you'll find these bikes at home.
The Haibike Trekking range is vast and offers a bike for all riders. The lower priced entry level bikes are best suited to those who cycle shorter distances, infrequently or just need a no-frills bike to get from A-B without hassle or fuss. The higher specification models like the 7, 8 and 9 are designed for riders who are frequently doing longer journeys, spend more of their time off-road and their more powerful motors and larger batteries lend themselves well to carrying luggage, shopping and even small children.
Not at all. Haibike make most of their bikes in three frame styles Crossbar (regular diamond shape frame), Uni (a lower crossbar) and Lowstep (no crossbar at all) but these are not gender specific. The different frame styles are designed more around accessibility over anything else.