Haibike Trekking Uni Electric Bikes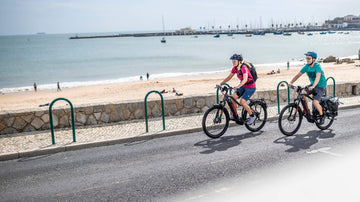 Haibike's Trekking bikes with Uni frames redefine adaptability and accessibility in cycling.
Engineered with versatile unisex frames, they offer a blend of comfort and performance for diverse riders. The Uni design can aid mounting and dismounting, catering to various heights and body types.
Equipped with durable components and adjustable features, they excel in urban commutes or countryside adventures. These bikes prioritize comfort with ergonomic saddles and handlebar components, providing a smooth and enjoyable riding experience.
Haibike's Uni-framed Trekking bikes epitomize inclusivity, empowering riders of all kinds to explore with confidence and convenience, marking a milestone in accessible, versatile cycling solutions.
Can't find the Haibike Trekking Uni electric bike you're looking for? Fill in our special order request form and we'll do our best to source it for you!
The Haibike Trekking range of electric bikes is highly versatile. With built in lights, mudguards, pannier rack and side stand, the Trekking range of bikes is a "one bike for all" solution to everything but fast road riding or aggressive mountain biking. A hybrid style bike, its at home on paved roads, gravel paths and light forest trails where its rugged build quality and comfortable riding position excels.
Haibike have thought about all riders in the Haibike Trekking range. The lower priced options make the most sense for riders who do short journeys, don't have large luggage needs or just need an economical "A to B" solution. The higher specification models like the Trekking 7, 8 and 9 are better suited to those who will be carrying luggage, shopping or small children on their rides, or where they will be spending a larger proportion of their rides away from paved roads.
Absoultey not. The Haibike Trekking model range is made in multiple frame styles to meet the needs of a wide range of riders however their intention, as with all manufacturers of these style of bikes, is nothing to do with rider gender. The differing frame styles are intended to enable a wider range of riders with different use cases and levels of mobility to access their bikes without issue and ensure they get the best possible riding experience.