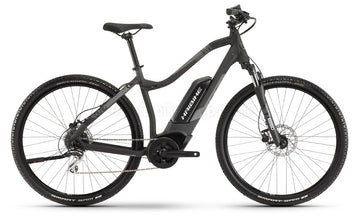 This item is now sold out & unavailable to order. We will leave this page here as a reference to the specification for this model.
View other products
Sold Out
Haibike sDuro Cross 1.0 2019 Uni / Crossbar Bosch
Specifications
General Bike Specifications
Frame Alu 6061, Hydro Formed with Internal Cable Routing
Forks SR Suntour NEX E25 LO, 63mm
Rear Shock N/A
Brakes Tektro T275 Hydraulic Disc Brakes 160/180mm
Shifters Shimano Altus M310 8 Speed Triggers
Rear Mech Shimano Acera 8 Speed
Cassette SunRace CSM55 11-34 Teeth, 8 Speed
Chain KMC X8 8 Speed
Wheelset Ryde Alloy Rims on Haibike TheHub
Tyres Schwalbe Smart Sam 700 x 47c
Handlebars Haibike TheBar 720mm 31.8mm
Stem Haibike TheStem 31.8mm
Headset A-Head, Alloy
Seatpost Haibike ThePost, Alloy, 31.6mm
Saddle Haibike TheSaddle
Weight 21.6 kg
Electric Bike Specifications
Battery Bosch Lithium Ionen 36 Volt, 400 Wh, with BMS Management
Display Bosch Purion Display / Integrated Buttons
Motor Bosch Active Line Plus 36 Volt, 250 Watt. 40 - 270% Assist, 50Nm
Range 30 - 110 miles of power assisted range, depending on terrain
5 ft 10 inches tall and use the
1500 miles in and I'm impressed by this neat piece of kit.
I'm 64 [bit old really] 81 kilos; 5 ft 10 inches tall and use the bike probably 3 or 4 days a week [so long as it's not tsunami weather] to go to work and to pop into town ..average daily mileage I guess circa 15/20 miles. At weekends I may do more. I live in York UK which is relatively flat and has lots of cycle tracks. I only don't use it when I get my motorbike out!
So what's good about it?
1.,Battery life…I have never run out and although I have never emptied the battery my guess is that on ECO setting [just enough extra power to take the sting off small hills or headwinds] it does some 50/60 miles on a charge ….possibly more. I don't find I need to use it on any setting above ECO as that's sort of defeating the object of cycling really! BUT ECO has enough power for any reasonably fit person to get some help but not too much
2.,Build quality…once cleaned it looks as good as new and has no real scratches etc developed from use of locks or leaning against lampposts etc.
3.,Comfort….its a pretty comfortable bike. Seats okay No real ''what are those bones I have that have appeared in my bum'' syndrome at all
4.,Gears …extremely good easy and don't jump or cause issues
Bad things
1. When it arrived motor was not fastened up properly and made a horrific squeaking noise when pedalled but an easy fix so no real big deal
2. The original tyres are very slow so replaced with more road orientated tyres; Vast improvement in speed and acceleration and to a certain extent comfort
3. the chain snapped at 500 miles. Very odd as I have never had a chain snap …ever…but again cheap and easy fix although the 3 mile push to a cycle shop was a bit of a chore!
4. the front suspension is rubbish, cheap tat. I have replaced mine with a more expensive version and its loads better…………….But you get what you pay for
What could be improved?
Built in lighting would be a good idea
Rear rack would be a good idea
BUT most important I would have a higher gear up top so once it was up to speed it was easy to go faster without help.
How do I rate it?
As I began, I'm impressed. I have owned a couple of electric bikes .
A Giant, first generation and still going [on new battery now after 15 years] which was good but times have moved on
An EMU…….was okay but v heavy and only really suitable for urban commute of 10 miles or so each way but well built and better specced from start. Now used solely in London.
And this one………. which is good on acceleration /rewards a good hard pedalling and can be used for dirt tracks etc. It's well built, looks good and feels like a real bike i.e. you can use it switched off pretty easily. Its so good I'm thinking of riding Lands End to John O Groats and using this bike…cheating I know, but at 64 I need all the help I can get!
Marks 8.75/10 or 4.5 stars
I would recommend this as a mid range electric bike for someone who wants a robust, reasonably long range tourer and who may want to go down the odd gravel track etc