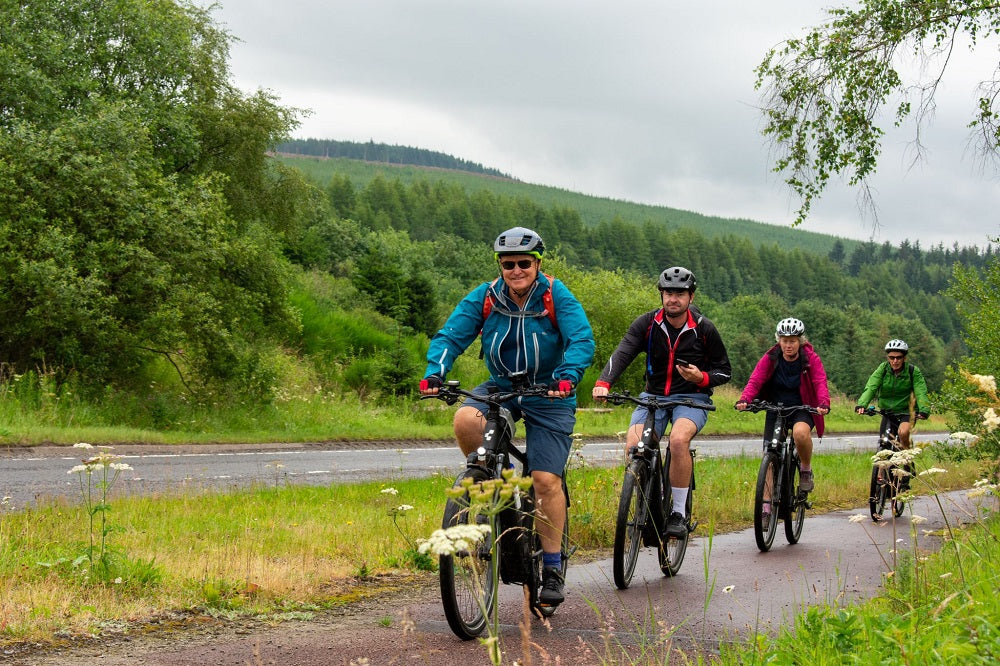 Case Study - Cycle Britain Ltd. Lands End to John O'Groats Electric Bike Tours
By Ben Mowbray |
Alan Little, Director of Cycle Britain Ltd contacted us in January of 2021 with an idea - a completely bespoke, fully supported electric cycle hire and accommodation package for people of all experience levels to tackle the mighty "LEJOG". 1030 miles over 23 days, taking in some of the greatest sights the UK has to offer. 
Alan's own Journey in cycling "started with a Raleigh Chopper as a young boy in Yorkshire. We started intrepid journeys at a young age into the Yorkshire Dales. The sense of adventure that inspired me then still provides the excitement today". 

He has road biked, raced, competed in and coached triathlon, cycled across Asia solo, mountain biked volcanoes and cycled in Tibet.


What does it take to run a successful ebike hire business on the historic Land's end to John O'Groats route?
Cycle Britain has a simple but effective mission statement - "To Inspire Everyone to Enjoy an Amazing Cycling Experience".
Having an already thriving business in cycle touring, the bolting on of an eBike option to an already impressive portfolio of available tours greatly increases the scope of the type of riders able to take part in such a historic challenge where otherwise, the lack of accessibility, fitness or experience of the route might prevent them. 
The problem...
As with any hire business which requires a physical product to operate, there are a huge number of factors to consider and arguably more so in cycle hire. Riders come in many shapes and sizes and their fitness levels and cycling experience can vary as widely as the terrain they'll have to tackle to make it to the end. 
Cycle Britain identified that to meet their revenue target for the tour, they needed a fleet of 10 bikes. From here, we discussed the tour in great detail and tried to identify as many potential problems as we possibly could early on in the "due diligence" process from both sides. 
Between us, we highlighted quite a list of "necessaries". Here are the most important ones;
Power
Low power motors might be enough for a reasonably fit and experienced cyclist, but might not be enough for those who'll need a little more support. 
Range
The bikes need to be able to cover at least the 50 miles per day on the longest stretch of the tour, but building in flexibility is always a good idea. Headwinds, extra luggage and less fit or experienced riders will all place a bigger drain on the battery of an eBike. 
Reliability
The bikes must be exceptionally reliable with an aimed for "zero downtime" outside of very basic maintenance/cleaning before and after the days riding or the occasional (and inevitable!) puncture repair. The route and scenery, experience and support of the team and the accommodation aside, they're the core product being paid for. Any downtime is potentially lost revenue making this easily one of the most important factors to consider. 
Multi-terrain
The terrain between Lands End and John O'Groats will be continually changing and the bike needs to be able to cope with more than just smooth tarmac. 
Functionality
The electric and ordinary bicycle controls need to be intuitive and accessible for everyone. Many of the riders may never have ridden an electric bike and overly fussy or complicated controls might detract from the experience. 
Sizing
Riders come in a huge range of shapes and sizes and the 10 bikes need to be able to cater to them. 
Equipment
The bike needs to be well equipped. Mudguards, a pannier rack for personal belongings and light spares and good lights would be an absolute "must have" for this kind of riding. 
Repair/Maintenance/Warranty
They must be relatively easy to work on. If there is a problem, its needs to be able to be fixed very quickly at the side of the road. While Cycle Britain tours are chaperoned by a "team bus" for when the legs get too tired, customers are paying to ride, not to watch the rest!
Spares and support availability
The bikes will be covering at least 1000 miles each month, as many as 12,000 miles per year - average car mileage! The components on the bike need to be easily and readily serviceable along the full route of the tour and so proprietary or unusual components need to be kept to an absolute minimum. 
The Solution...
Combining Alan's experience of running cycle tours and our own 15 years of experience supplying some of the best and most reliable European manufactured bikes available, there was one very clear solution; 
The Cube Kathmandu Hybrid EXC 750. 
Cube E-Bikes
A German manufacturer and with a product portfolio so far reaching that even we are unable to stock every single model each year, Cube offer exceptionally reliable and exclusively Bosch driven ebikes at a price point which makes competing with them incredibly difficult. 
The Kathmandu electric bike, as its name suggests, is designed specifically with long distance touring in mind and has a specification list to match. 
Driven by Bosch
Fitted with Bosch's newest and most powerful Generation 4 Performance CX motor, it has a maximum output of 85Nm. In "Turbo" mode, this equates to 340% assistance. The same as you and another 3.4 pairs of legs pressing on the pedals. 
Brand new in 2022, the EXC model also had Bosch's new range topping 750Wh battery. Rated for up to 160 miles on a single charge, the Kathmandu gets a battery in keeping with a bike designed to lug a rider and all of their gear long distances over varying terrain. 
Having stocked Cube electric bikes for the last 5 model years, they've proven themselves to be highly reliable. Despite being our largest ordered brand and shipping to 154 countries, they're the least rarely seen back in our workshops and make up the smallest percentage of warranty work or parts replacement undertaken. 
Simplistic control
Fitted with 29" wheels and extra volume Schwalbe Energizer Plus 55c tyres on Cubes own EX23 wheels, the Kathmandu models are one the most rugged hybrid leisure bikes available and the frame is for the most part probably over-engineered, allowing it an ultra wide flexibility of use. Its just as happy rumbling over gravel, through forest trails and up mountain paths as it is on smooth tarmac roads. 
The electric bike controls are simple, but do offer a huge amount of data for those who are interested. The new Bosch Kiox 300 display offers a basic "at a glance" screen showing currently selected power mode, speed and battery status but using the LED Remote switch to scroll through further "pages" on the screen will provide data on miles covered, time, average speed, calories burned, rider input vs bike output, and much more. It even has a sat-nav function and Bluetooth heart rate monitor integration! The brakes and gears operate in exactly the same way as an ordinary bike and wont feel at all alien to even the most novice rider. 
Highly versatile 
Available in 3 frame styles and 5 sizes, the 15 different variations of the same bike allow the perfect amount of flexibility for hire businesses. Alan has a good spread of bikes which allow him to service almost any group of rider.
Straight "out of the box", the Kathmandu is very well equipped. Factory fitted mudguards are flexible yet tough, the pannier rack is a welded-in and integral part of the frame and the front and rear low drain but high output LED lights operate with a single button click from the Bosch handlebar remote and are powered directly from the eBike battery. It also has a factory fitted side stand and a chain guard to keep the dirt off! 
It was mutually agreed to stick to a single model for Cycle Britain's hire solution. Not only does this make pre-tour tuition much easier if everyone is riding the same bike, but it also means that parts and spares will always be quickly interchangeable. It also allows him to take a spare bike or two where all 10 aren't out on the same trip so that if the worst happens, he has an immediate replacement for his rider without the need to teach someone a whole new control setup.
Maintenance made easy
Lastly, yet often one of the most often overlooked aspects of hire bike business is the breaking down of the bike to its individual components. Needing to cover more than 10x the mileage of an average bike each year, parts and spares for the Kathmandu importantly are readily available. Using brakes and gears from Shimano for example means that consumables like brake pads and chains can be found readily stocked in almost every good quality bike store along the route as a backup to us being able to ship spares straight to the next hotel on the tour in advance of their arrival. 
How its going...
Prior to the arrival of the bikes, Alan took the very creditable decision to put himself through both the Cytech Bike Technician and the Bosch eBike Technician courses. 
Not only does doing this demonstrate his dedication to expanding his knowledge of bicycle maintenance and providing his customers exceptional service, it also puts him in the highly advantageous position of being able to both carry out his own repairs and help us at distance by being able in many cases to self-diagnose any issues he comes across on the electrical side.
While its not practical to carry a full Bosch diagnostic suite with him, one of the major advantages of the new Bosch Smart System fitted on his fleet of bikes is that it has a basic diagnostic system built-in using their Bosch bike Flow app. 
Alan says;
"Ben and the team at the E-Bikeshop advised me carefully on the ebike most suitable for the tours that we are running on ebikes. We have successfully delivered 12 day and 23 day tours on the superb Cube Kathmandu bikes as well as Hebrides tours. The ebikes have also recently been used in Italy to deliver a tour across the Dolomites on gravel tracks. 
The bikes have on the whole been fantastic. Where we experienced issues with seat post clamps, ordering various alternative tyres and other parts needed, the team at the E-Bikeshop have been extremely knowledgeable and provided fast, easy to understand solutions to the problems. The team despatched spares at short notice to our future locations and assisted us on building a range of spares which enable us to cover off almost any possible downtime."
What we've learned...
Running a successful cycle hire business, especially over such long distances and where the bikes are expected to perform faultlessly day after day for weeks on end, was never going to be without is challenges. 
Accelerated wear
One of the first issues which came to light were the factory fitted seat clamps. Constantly being moved to account for multiple riders meant they failed much earlier than would be normal on a "one owner" bike where you would simply "set and forget". We replaced these with Hope adjustable quick release clamps. 
The need for "on-hand" spares
Consumables such as brakes pads, chains, cassettes and tyres are now something which Alan and his team carry as "stock" items, but with different riders of different levels, it was always a bit of a guessing game on what would be needed and when. 
"Future dated support"
We hold almost all of the most commonly used spares in our own warehouse and Alan and his team know that they only have to tell us what they need and which hotel they will be arriving at the following day, and we can get them out on an overnight service to arrive at their next location. For anything else, we can advise a lead time and marry it up with their planned stops to ensure they get what they need in the fastest possible time. 
Having got a few tours under their belt, together we've built up a better picture of the types of issues we're likely to face and each others capability and speed at resolving them either via parts and spares availability, or over the phone/emailed technical advice. 


If this sounds like something you might be interested in, take a look at their video below, where you can see the Cube Kathmandu Hybrid EXC 750 in action and when you're done, get yourself booked onto Cycle Britain's E-Bike Tours!

If you're considering starting your own cycle hire or tour business, looking to add an eBike offering to an existing business or need any further information on how fleet supply of eBikes can support your plans, please get in touch or book an appointment to see us today.