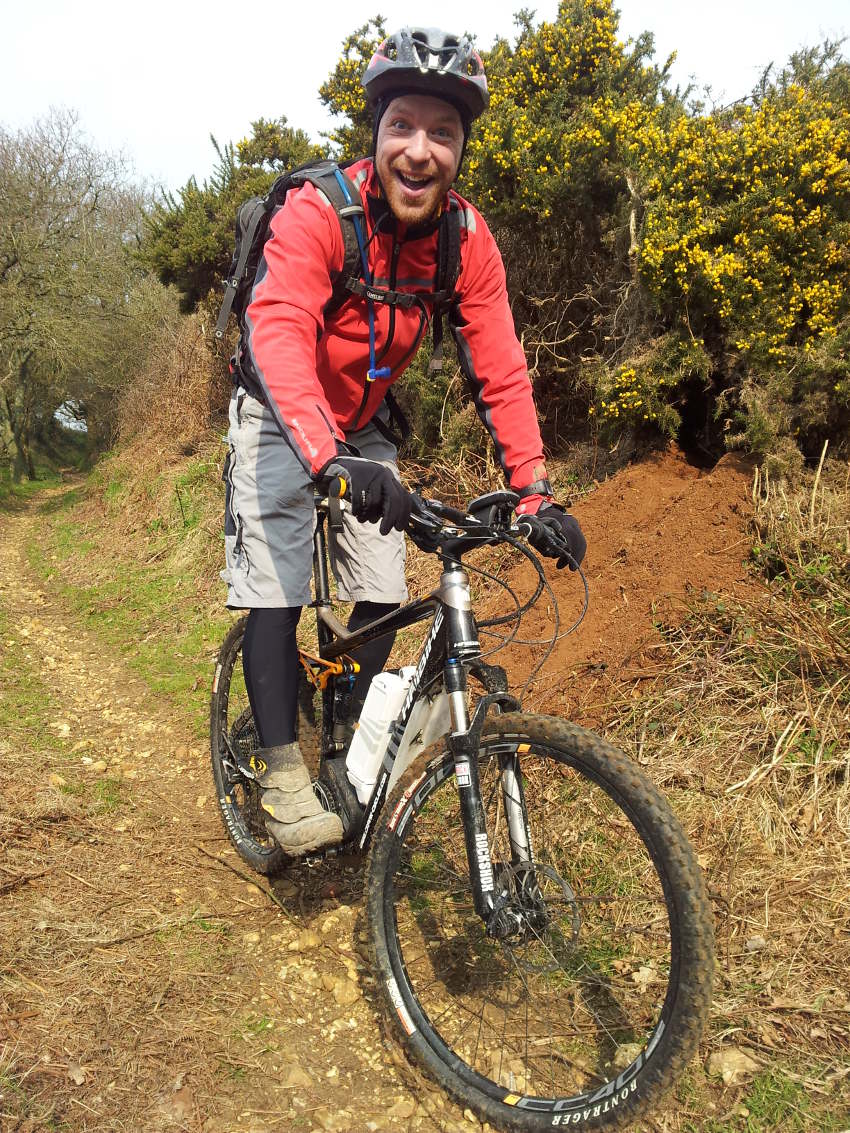 e-bikeshop gets heart patient back in the saddle - Part 2
By Martin Brown |
I rode the RC29 that he had in stock around the car parks and streets in Alton and was simply blown away with the bike and the Bosch system. It had far more power than I thought it ever would and I was very impressed with the way it delivered that power.
Now normally I avoid tarmac like the plague as it just bores me, but not today, this bike was FUN! Bearing in mind I was still in a state of permanent atrial flutter, here I was literally flying round laps of the town centre, hardly drawing breath and with a huge grin on my face (I apologise to anyone who saw the nutter on the bike that day!) I knew from that point that if my operation worked this time that a Haibike would tick my boxes. I could ride with my mates and easily keep up whilst keeping my heart rate nice and low, riding the trails I love without the concern I'm doing any further cardiac damage or speeding up the progression of my disease. My operation came and thankfully everything went to plan. A couple of days post-op I really could feel the benefit so I picked up the phone to Martin. As Haibike have a product unlike any other, they are in huge demand and they simply can't make them fast enough so they are in short supply. I've had too many reminders of how short life can be so after chatting it through with my wife (again my voice of reason) we decided I should go for it. I knew I wanted the full suspension model, the FS SL as I had seen the quality of the frame build and pivots in the FS AM Martin had in the shop (very reminiscent of the lovely Giant Anthem I sold). The AM was out of budget so the SL it would be.


A couple of weeks later saw me pick the bike up from Martin at e-bikeshop and I was already itching to get out for a first ride once I'd finished healing. It went like this: I very optimistically thought as we are heading into spring I'd leave the mud tyres in the shed and throw on my maxxis advantage and high roller tyres on the bike as they are a personal favourite combination of mine. What wetness was on the trails will be hardened up with a bit of frost so they'll be fine was my thinking....! Err no!
Thanks to the crank drive system, swapping the tyres was a breeze and even easier than a quick release with the bolt through axles. Another bonus point for me when deciding which bike to buy. Anyone who mountain bikes will know a puncture can strike at any time so I didn't want my humour tested with having to change a tube (or more realistically mend a puncture) on a hub motor system in the middle of a muddy trail, in a gale, miles from home and with numb hands.So early morning I headed out with friends and the nice mild weather meant no frost, instead of firm frosty ground I found mud and floods of biblical proportions. Now I've been riding these trails for a couple of decades and I simply can't remember a time they were as wet as they are now, just mental. Now I start to think "you idiot, why did you put these fast rolling summer tyres on?!!" To help the situation a bit I dropped the pressures down to around 30-35psi which gave them some hope of gripping a bit.The first section of really deep mud I came to was unrideable due to the damage from horses and sheer depth of the gloop. I knew this from experience and my mate's attempt to get through underlined that when he ground to a halt, hopped off and sank almost to mid shin depth!!
I, however, have a new toy and I was intent on using it. I did however have in my head that even with turbo setting I wouldn't make it, but I was curious to see if I could get as far as my mate. Oh how my faith was put in it's place! The bike just kept surging forward despite the depth of the mud and even with my terrible tyre choice the Bosch system seemed to smoothly regulate the torque so the wheel hardly span up and the power just came in a very smooth yet very powerful manner. I emerged the other side with a grin that could be seen from space and to see my friend's jaw sat in the mud. Never in my wildest dreams did I think I would actually get through!
Now feeling enthused and very confident in the bike (after about 5 miles or so), I proceeded to start to aim for all the deep stuff to test it time and time again. Every time the same, just complementing my input enough to give that extra boost to see the job done. I then realised that both Turbo and Sport levels are just incredible, so to ease off a bit, as I had no idea what range I would get, I started to ride mostly in Tour mode with the occasional Sport enabled for a really bad section. Tour mode dealt with most things very comfortably. I did however try to avoid flood water as best as possible but I did end up committed in a section that got to crank bolt depth and required rocking of the cranks to keep going through. I glanced down and realised if my motor was under slung it would have been completely submerged! Thankfully that was as deep as I got and managed to avoid the rest of the really deep water. There is a long section through a field that leads to a woodland on the route we took. There is a section where cows congregate under the trees when it's wet to shelter and the path runs right through this section. In conditions like yesterday it's hard to walk through let alone ride. If you were somehow able to muster the sheer force to ride through it you'd be maxxed out on the heart rate by the time you got to the woods, I know, I've got the T shirt! My friends tried and failed, I would have also failed on my Giant Anthem. Yesterday I progressively made my way through, with some tactful track standing in the worst bits just to stay upright, got to the gate, checked my heart rate monitor and it said 104.Whilst waiting for my friends to catch up, I watched the rate drop down nicely into the 80s which showed how my body, and most importantly my heart, hadn't been placed under prolonged stress. This is two weeks after my heart surgery and a year without cardiovascular exercise too so I was over the moon that the bike was doing everything I had hoped it would do but was doing it so much better than I thought it ever feasibly could.
To summarise we did a wee bit over 10 miles in the foulest ground conditions and with easily less than a mile of tarmac. As it was my first ride I was messing about with modes, playing with Turbo and Sport until I got a feel for the bike. In no means was I riding sympathetically regards the battery charge longevity. I returned with 3 lights remaining of the five on the battery. My friends said the 10 miler felt physically like a 30 mile ride.Haibike have produced an excellent mountain bike that would stand its ground easily on the trail amongst many "normal" mountain bikes costing significantly more. It rides like a normal bike (a very good one), weight distribution is very good and at no time did the bike feel unsettled.
Coming from an 11kg bike to a 21kg bike I had hang ups about how it would ride in the rough. I needn't have bothered as once moving there is little perceivable difference. The suspension is great, the Rockshox Recon performed much better than anticipated and was nice and stiff (I'm a long time Fox fork fan), the Fox CTD rear shock was as you'd expect from Fox and flawless. SLX does exactly as it says on the tin and Haibike finishing kit of bars, grips, stem and seatpost are all good quality.After test riding though I did put their saddle out to pasture as it's probably the worst I've tried! Don't know what they were thinking with that one. Saddles are a very personal thing but there was no way that was staying on mine so my Cannondale saddle was put back into service. As for the Bosch system all I can say really is wow. It performed way beyond my expectations and I simply just raise my hat to the Bosch engineers (need a clappy hand icon!)So to summarise I'm over the moon. Only mechanical failure would dampen my new found lust but only time will tell regards that.....I was so glum that it appeared my MTBing days were over and the disease had wrecked my chances of continuing the one thing I have loved for many years. I felt an electric MTB would at best be a compromise but hey ho, if it meant I was still out, enjoying time with friends, then that's the way I would go. Instead I've found the bike has offered a breath of fresh air and excitement that a "normal" MTB just can't do. It's like starting the sport all over again and that is a very exciting prospect.
So good points - all of the above and the grin that comes with it. Bad points - saddle and not been able to rotate the chain backwards with the cranks to use the chain scrubber after the ride. Oh and the fact that your friends now want to steal your bike! Purchase the Haibike xDuro FS SL Electric Mountain Bike