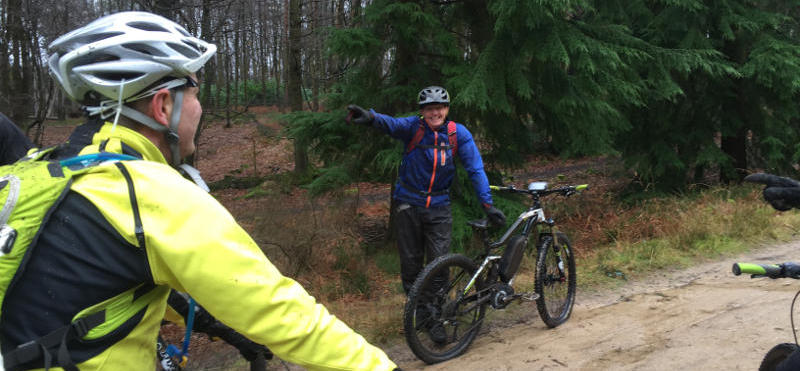 E-Bikeshop Owners Club Ride: Peaslake January 2016
By Martin Brown |
On Sunday 31st January 2016 the E-Bikeshop Owners Club visited Peaslake to check out some new hidden trails that we had not ridden before. A fun filled day with a great turnout. We met at Holmbury village hall at 10.30am where there was enough parking for us all to gather. After setting the bikes up and a quick brief we were all excited to set off and get riding. For a late Jan ride we had 13 people attend this ride with a couple of new faces included too. This ride was led by fellow E-Bikeshop Owners Club member Ken also part of the 100% club!. Ken and Chris ride the Peaslake area frequently, it's their local play heaven, so they had planned out a new route for us to tackle that also included two new trails!
This time of year the trails can get very muddy, we had plenty of rain in the previous week and a late January ride was set to be a sticky one. Considering it was supposed to be raining all day, the weather actually held off and we didn't see a spec of rain all day, awesome! The first climb out of the car park was a little ambitious, with a steep climb over slippery mud, it set the par of what to expect, but to our surprise the trials were impressively flowy with only sticky parts in some places.
We rode up to a the famous 'Yoghurt Pots' trail first which to our surprise was actually closed for trail maintenance. So we then headed straight over to 'Telegraph Row' which we have done before in the summer but this time round the terrain was a lot different and it almost felt like a completely different ride.
This then led onto a new really slippery trail that cambered through the trees and ended with a muddy bog which I don't think anyone actually managed to pedal out of! Unfortunately a time to rest naturally came at the end of this trail and club member Bernie had a puncture. So after a quick pitstop and some arm pumping inflating a new tube, we were back up and riding in no time.
After a few short climbs we headed over to the 'Barry Knows Best' trail. Which we all loved last time we were here. The trails had loosened up a little since we last visited, but despite the soggy ground, the trail was still fast and flowy with lots of berns, twists and turns down the side of the hill with some extra jump additions should you wish to take that line.
We all enjoyed it so much most of us decided to ride back up and do it again, whilst some stayed at the bottom to catch some breath and a few snaps. From here we then crossed the road and headed up a killer climb called 'Heart Attack'. Yes, you can guess why it's called this, it really is a shocker. Fortunately we all made it up on the eBikes, but it's still hard going even with the assist!
Once at the top we rode a short distance over to a new trail Chris and Ken had found that darted off in a sly opening in the trees. It's one of those trails you could easily ride past without noticing, fortunately we had the boys local knowledge as we navigated down this one! This trail was a little more demanding with fast flows, drops and jumps should you wish to ride it fast. If not you can easily navigate around them. We played here for a while as a few of the members quickly gained confidence and decided to practice some air time!
This trail was fantastic, we actually rode up from the bottom and did it again, that's the beauty of being on eBikes I suppose! You can tackle the climb again to find the fun descents and repeat them as many times as possible!
From here we took some more trails over to the Peaslake village store to grab some refreshments. At this point, Ken decided he had left his keys at the top of the last trail, and asked to pinch my brand new Lapierre 2016 bike I was testing to blast over and find the keys. A while later he returned with a smile on his face, at this point I thought he had found the keys, but he said they weren't up there! We later established they were in his bag the whole time! A great ploy to get some extra ride time on my new test pilot!
After a slice of cake, coffee and of course a natter we headed back up the hill and rode 'Barry Knows Best' for another time, we then headed over to 'Yoghurt Pots' to find it was back open so we had a blast going down that.
Finally a few of us extended to route to include one more trail that involved a demanding climb to get to, but once at the top we enjoyed a fast long trail back down to meet the others back at the car park.
Conclusion
All in all it was a fab ride with the usual lot and some new faces which was nice. It's great to see so many out on the bikes in January, it'd be easy to take a pass when looking out the window, but the weather held off and we all had a blast!
It's worth noting the ride didn't go trouble free, we had a couple of mechanicals: 1 Puncture, 1 snapped chain link & one bent hanger. Ken also had an error on his bike, but we think it's because he rides too fast! Many thanks to all who came, glad everyone enjoyed it, a special thanks to Chris and Ken for leading the ride, the banter and being such all round great chaps. Really looking forward to the next ride, of which we are already planning for... We will of course publish all the photos on the club page in the next few days, don't forget to tag yourself in them. The E-Bikeshop Owners Club is a closed group of riders, if you have purchased a eBike from us and want to get involved, please get in touch.