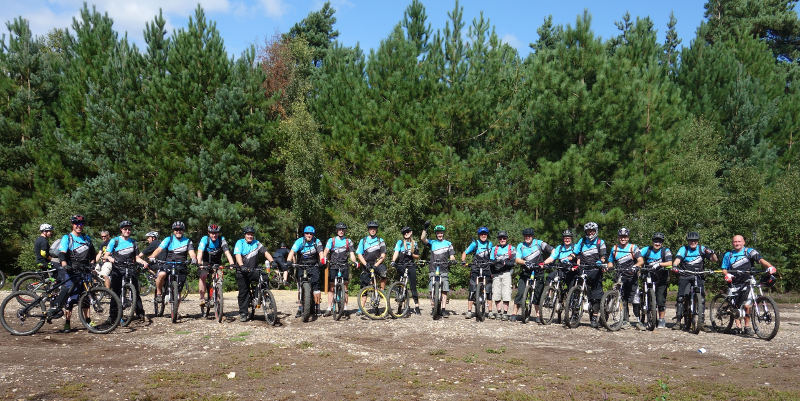 E-Bikeshop Owners Club Ride: Swinley Forest Sept 2015
By Martin Brown |
The E-Bikeshop Owners Club revisited Swinley Forest in September 2015 for another amazing day riding electric mountain bikes across the various trails and singletrack. We actually already visited Swinley Forest AKA The Lookout in Bracknell earlier in the year & everyone had a great day. So we decided to do it again for our September outing, this time with lots more riders and some new faces as always. To mix things up fellow club member Clive offered to lead a few 'off piste' sections which were optional as he lives local and knows some of the hidden trails off the main track.
We all met in the carpark first thing for a quick briefing and welcome, mainly for the newer members. We don't have rules as such, but a quick overview of where we were going and some trail etiquette saw us off out the car park and hitting the trails in no time. We had a mixed group of riders this time, some only just got their new eBikes and some were more hardened members. A couple of ladies joined us and we had a mix of abilities, fortunately we never push the limits too much, so it's a enjoyable experience for everyone. There are certain places where the 'wilder' riders can have a bit of fun too!
We started on the Blue section, which is tight and twisty with lots of man made berms and bumps through the trees, this leads onto the Red section which is slightly harsher trails, but still tame enough to be able to gently roll over the whole trail if needs be.
Some sections we had to make sure if we were stopping in between to regroup for a few seconds, that we actually didn't block the trail. This was quite apparent with everyone grouping over to one side to let other people past on the crossing sections.
The first part of the red section was actually closed last time we visited which was a real shame, but fortunately all the felling was complete and it was back open this time for us tall to enjoy. The famous 'Tank Traps' lead you up and down each side of a small valley, was really fun keeping your momentum up each side to come back down again.
A quick pit stop a short way in was just enough to catch the breath, also a good time to natter 'eBike talk' and of course chat with 'Analogue Bikers' to educate on what they will be upgrading to in the near future!
About half way round we took a detour over the 'Jump Gully', this was great to have a little play over the jumps and also a good rest stop for others. Some were getting a little bit ambitious (Derek mainly) which turned into dropping off small ledges into the gulley!
Everyone had a few runs down here. It was great as you can take it at your own pace, all the jumps are tabletops, so they are flat on top, which means you can simply roll over them until you build up confidence and speed.
As the confidence grew, some club members found themselves catch air as they got faster and faster over the jumps.
Fortunately everyone stayed upright, although Derek did have a little wobble after dropping off ledge and nearly coming off sideways, fortunately he held on and rolled out safely without hurting his pride.
The next section of Red trails were absolutely awesome, probably a good point to say the weather was fantastic with blue summer skies and the sun really warming the trails up. As most of this was singletrack through the trees the shelter got the temperature just right.
With such a high number of riders, we pretty much ruled the trails yesterday, it was nice to be in a decent sized group as it added lots of different positions within the group to ride in and close with other Bikers.
Conclusion
There were a couple of tumbles throughout the day, but everyone made it back in safely in one piece with smiles all round. Most of all we all had fun!
This ride ended with a monster tea and coffee order in the cafe next to the car park, another good time to catch up and natter about the day's events. What is the most noticeable when riding in the club, it's not just the enthusiasm shared across the eBikes, it's the great people who make the club what it is.
Such a good bunch of guys (and girls), it's actually as much about catching up with everyone as it is riding the bikes. Don't worry club members, the next ride will be posted in the group shortly. Keep your eyes peeled! There are over 100 photos from the day will be uploaded shortly to the members area. Feel free to tag and share as you like. Lots of good new profile pictures in there. The E-Bikeshop Owners Club is a closed group of riders, if you have purchased a eBike from us and want to get involved, please get in touch.